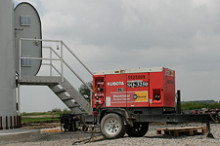 In our generator rental fleet we offer everything from portable 1,000W suitcase size generators up to 30 kW towable units.
Portable Generators
As a Honda Power Equipment Dealer, MacAllister Rentals can take care of your light power needs. We have a variety of units available for purchase or rental.
EU2000
EU3000
EB5000
EB6500
Learn more about Honda generators at HondaPowerEquipment.com
Towable Generators
Our large towable Caterpillar and Kubota generators are capable of 20 kW and can run 208/120V 3 phase or 480/277V 3 phase and 240/120V single phase.
Learn more about the Caterpillar XQ20-2 Generator
Learn more about the Kubota SQ-3250 Generator
Learn more about the Caterpillar XQ30 Generator
For higher capacity power needs, visit MacAllister Power Systems or call (317) 545-2151.
Machine specs can vary from model year to model year. Consult the serial plate and/or operators & safety manual for accurate machine specs.