Mistakes are inevitable in every landscaping business, and they are part of business development and growth. Whether you have operated your landscaping business for a year or for decades, you will experience the odd error or goof-up that will set you back. Setbacks occur in even the most successful landscaping companies, but the trick to landscaping business success is to learn from your mistakes and not to repeat them — especially if they're costly ones.
Jump to Section:
Although some mistakes are expensive, there can be value in what appears to be a loss. Some mistakes landscape business owners make are learned the hard way — from committing the error and paying the price. Some mistakes can be fatal to a landscaping business, like failing to get contracts or running out of money. We have compiled a list of common mistakes that we see all too often in the landscaping industry that hopefully you can learn from and avoid in your own business.
Landscape Business Mistakes
The best mistakes are the ones made by others. Learn from the business mistakes that have been made by other landscapers; including management errors like improper hiring practices or calculation of labor needs, technical errors like poor planning and design, and entrepreneurial errors like chasing bad contracts. Learning from others who have gone before you in the landscaping businesses can protect your investment in your business.

Analyzing mistakes gives you a unique opportunity to fix and prevent errors in your business. Reflect on previous misfortunes and discover creative solutions, innovative transitions, competitive advantages and profitable returns.
Here are five costly mistakes that landscape business owners have experienced.
Mistake #1: Not Understanding Project Needs and Requirements
Probably the biggest and most costly mistake that landscape business owners make is failing to fully understand the project scope – or all the needs and requirements of the project. Unfortunately, this happens all too often with landscape businesses of all sizes and experience levels.

Routine projects may feel fail-safe, as they're familiar and involve relatively few variables. It would be a mistake to assume that every project that seems familiar will really have the same requirements and scope in terms of an investment of time, talent and costs.
Even so it's the big jobs that get landscapers into serious trouble. Failing to understand and plan for project scope at this level can be disastrous. Poorly managed expenses can cut into project profitability. Unanticipated labor hour requirements and creeping deadlines can lead to shoddy work and even the loss of a large contract. These situations could have been avoided if project needs and requirements were fully understood before they got locked into the contract.
Types of Landscaping Contracts
All landscape contracts are built with four components: materials, labor, overhead and a contingency for unexpected costs. Contracts also have different provisions for risk and protection of both the business and the client. Some landscape contracts are fixed, guaranteed amounts or "lump-sum" for specific works. These are proposed to the customer as bids.

Another contract type is the fixed/variable format. This is where certain parts cover fixed costs and other parts — where conditions are unknown or subject to change — are open to increase or decrease depending on the line item.
The third common contract is called "cost-plus," where the customer pays for exactly what materials are used in the job and how many labor hours are consumed, plus the landscape contractor's overhead and profit margin.
Each type of contract has its pros and cons. Many customers who request bids want the reassurance of a known price cap that puts the risk of underpricing on the contractor. Variable contracts have a risk-sharing approach, where cost-plus contracts put most of the risk on the client while protecting the landscaper. This contractor protection works well where the customer is willing to accept risk. The client can also be rewarded with lower costs by eliminating the contractor's budgeted amount for contingency.
Most landscape contracts, whether for maintenance or new installations, are fixed lump-sum agreements. Fixed lump sum agreements represent the greatest potential for contractor loss, because there is no contingency funding built in for unexpected costs. When a company fails to understand the entire scope of the project, they don't allow proper planning for the needs and requirements that may not be apparent initially.
Understand the Task at Hand and the Resources Needed
Most costly mistakes occur from underestimating labor and materials, especially when taking into account any specialized equipment needed. Forgetting to allow for material and equipment delivery costs can weigh down the expense sheet significantly. But not allowing for large machines, like mini-excavators, skid steers, trenchers, compactors or paver saws, will be heavy costs to absorb, and threaten the profitability of the project.
Poor estimation usually occurs from a lack of knowledge or a lack of estimation tools. Knowledge of what to look for in a job and anticipating the project's needs and requirements can take years to develop. Applying the right project cost estimating system is especially valuable for a newer landscape contractor.
Estimating a large and complex landscape project requires a methodical approach. Each phase of the job needs to be itemized with a set allotment for time and materials. Experience is the most valuable asset available to any business process, and it's not something that can be easily purchased. It can, however, be found in second or third opinions.
A simple safeguard in estimating project needs and requirements is to involve other people. This could be someone else on the company's team, a supplier or a registered professional, like a forester, horticulturalist or geotechnical engineer. Their opinion of red flags and hidden snags provides insurance against overlooking a vital project component and putting forth a seriously underestimated bid.
Equipment suppliers are a great resource for landscape businesses. Involving a landscape equipment rental company and their knowledgeable staff in the estimation process can help improve your strategy. Their years of experience in knowing what equipment will be needed for a job, the time required and any incidental costs associated with rental fees and operating expenses can be priceless protection against forgetting to include certain time- and material-saving tools.
Taking a team approach to understanding project needs and requirements is a solid business practice that minimizes costly mistakes and lets your landscaping business succeed.
Mistake #2: Buying vs. Renting Landscape Equipment
As a landscape business owner, one of the toughest decisions is whether to buy or rent a piece of equipment. The right approach to this dilemma is to look at what the equipment is needed for, how often it's going to be used and what to expect for an operating and maintenance burden.
Smaller hand tools, like shovels, rakes, shears and handsaws, are usually bought, as they're mainstays in the landscape business and typically used daily. The use of power tools such as blowers, chain saws and power washers may depend on the job, and the use of heavy equipment, such as skid steers or backhoes, will vary even more.
The level and frequency of usage of larger, more expensive equipment like tractors, tillers, movers and excavators need to be assessed when making the buy versus rent decision.

A major mistake many new landscaping businesses make is tying up available cash or lines of credit in large purchases like new trucks, trailers and labor-saving machinery. Becoming cash strapped early on in the life of a business can be a fatal mistake. While it might look professional and impressive to roll out shiny new equipment, those items will cost a business tens of thousands of dollars in cash outlay, even if they are heavily financed.
Having cash or credit free to cover emergencies or interruptions in business gives you considerable security. Cash tied up in purchased equipment is difficult to liquidate quickly, and doing so may cause you to suffer considerable loss.
A primary question to ask yourself when deciding whether to buy or rent equipment is, "What's the best value for my needs and available resources?" The answer should drive your decision.
Buying Equipment
Buying used equipment that has not been properly maintained can be a poor investment and a costly mistake for landscape companies, even if the initial cost is low. The amount of maintenance and potential downtime that often results can actually make it a more expensive option. When buying used equipment, make sure it is from a reputable equipment dealer and that the equipment has been properly serviced and maintained throughout its useful life.
Buying new or slightly used equipment can be a poor investment and a costly mistake for landscaping companies if all financial aspects of the decision are not taken into consideration. Depreciation costs on new equipment will cut part of its value in the first year and can eat the entire amount you've put down to meet financing requirements. Depreciation also has tax limitations to be aware of, and should be discussed with an accountant.
On the other hand, buying equipment ensures that you have it all the time and that it is ready when needed. This is a major convenience and can save you from costly downtime. You will, however, need to budget time and money for regular maintenance and any necessary repairs. Servicing costs must be considered when buying landscape equipment, as do security and storage needs.
Renting Equipment
Renting landscape equipment is often the best business value, particularly for machines that only see intermittent use – whether for more seasonal projects or unique jobs. Renting is most likely a good choice for new landscaping businesses that are still working to find their niche in the local market, and are trying to avoid becoming cash strapped. Trucks and trailers are used daily, and may be more suitable to purchasing. But most landscape contractors will agree that it's a costly mistake not to rent partial-use equipment like aerators, chippers, stump grinders, augers and mortar-mixers, or one-offs like hydroseeders, edgers and sod cutters.
Many landscape businesses own or lease their skid steers. However, attractive rental options are available as there is a tremendous range of these versatile machines and their available attachments. What can be a costly mistake is to purchase specialty attachments, rather than renting them. Attachments are labor-saving devices for specific jobs and can be identified for occasional use during the planning phase of a project.
Popular rental attachments include landscape forks and rakes, grapple buckets, pulverizers, rock hounds, over seeders, and bush hogs.

Consider Service, Maintenance and Storage Costs in Addition to Acquisition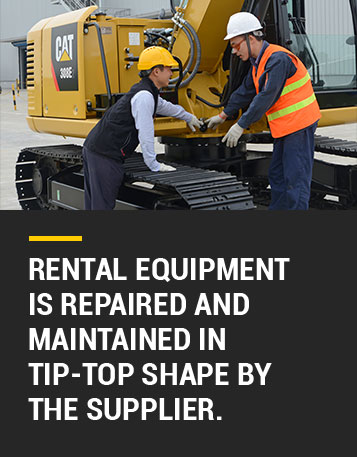 Often, landscape businesses make costly mistakes by attempting their own equipment maintenance and repairs. Rental equipment is repaired and maintained in tip-top shape by the supplier. They employ professionals who know this machinery intimately. Servicing expenses are built into the rental price and eliminate any costly surprises that can pop-up in the middle of a job.
Rental equipment agreements have no hidden secrets or surprises. All details are available upfront when you rent a machine or attachments. The equipment can be delivered right to your jobsite when you're ready and picked up when you're done. Purchased equipment has to be transported and stored until it is needed again. It also has to be paid for while it sits idle and isn't generating income.
The decision to rent or buy equipment might be tough, but weighing the pros and the cons comes down to dollars and cents. Buying, maintaining, storing and financing landscape equipment may be a very costly mistake.
Mistake #3: Improper Timing of Rental and Equipment Needs
Deciding to rent landscape equipment may be the right thing to do, but another costly mistake that landscape contractors make is associated with that decision. That's the improper timing of rental equipment and needs. Knowing how to time landscape rentals is a valuable business skill.
Plan for Competition
Landscaping is a competitive business. Even if you've won a particular job and you thoroughly understood its needs and requirements, budgeted for every detailed contingency and allowed for renting specialized equipment, you have to know that your competitors are out there working on their own projects.
Your landscaping competitors also need rental equipment, and they may need it at exactly the same time you do. With only so much equipment available in a particular area, and so much of the demand being seasonal, it there will be shortages of certain pieces.
Not properly timing when you need equipment is a costly mistake that's easily avoided by carefully planning and scheduling your work. This helps you know exactly when that equipment is needed, and for how long. It can also be a costly mistake not to partner with a rental equipment supplier who can ensure prompt delivery and uninterrupted use of the equipment until you're finished.

Consider Seasonal Needs and Availability
Lack of needed rental equipment supply can cost significant downtime in jobs, resulting in completion delays and cost overruns. Seasonal windows are particularly sensitive to rental equipment supply, and certain items are going to be in high demand in peak season. Spring is project start-up time in most regions, and often has the highest volume of rental sales. Inventory gaps occur in seasonal peaks and service is usually provided on a first-come, first-served basis.
Equipment rental suppliers value their core, steady group of landscape contractors and appreciate their ability to plan their equipment needs for their upcoming jobs. This makes for a mutually beneficial relationship. Just as you'd want your rental equipment supplier to be organized and to properly time availability and deliveries, they value your reciprocal attention to proper planning. That includes being finished with the equipment on time so they can service other valued customers.
Business owners who plan ahead and time their landscape equipment rentals according to when they're needed are going to be well ahead in their projects and profits. This is compared to those who leave things to the last minute, or who suddenly realize they need a high-demand piece of equipment in the middle of a job.
Mistake #4: Not Partnering With the Right Rental Company
A truth in all types of business is that no one operates alone. This is especially true in the landscape business, where your network of material and equipment suppliers is nearly as valuable as your own labor force. Without this core support, it would be impossible to serve your customers and remain profitable.
Equipment rentals are a vital part of the landscape business. Even the best-financed and capitalized landscape contractors rely on equipment rentals to fill the gaps in their own fleet. In fact, many landscapers consider their equipment rental supplier to be a key team member. These experienced business owners know the benefits of collaborating with the right rental company.

Rental Partners Provide In-Depth Industry and Equipment Knowledge
Rental equipment suppliers know their industry, and they know the right machines to fit your landscape job needs and requirements. They should be considered a vital resource for advising on what equipment will deliver the best value and how best to operate it for peak performance and return on investment.
By partnering with the right rental company, you incorporate their technical knowledge and ongoing service, as well as top-notch equipment right when you need it, with no delays and no costly downtime. The right rental equipment company goes beyond the standard vendor relationship and creates a true partnership with their customers that consistently provides best-value solutions for the project at hand.
The right rental equipment company also delivers something that's impossible to set a price on: Safety. Professional equipment suppliers take safety very seriously. They ensure their equipment is kept in safe condition, users are instructed in safe operation and their products conform to all government regulations, including environment responsibilities and worker compensation rules.
Which brings us to mistake #5.
Mistake #5: Not Taking Safety Seriously
Without a doubt, ignoring safety on your landscape jobs can be a very costly mistake. One serious accident causing disability or death can put a landscape company out of business permanently.
Professional landscaping companies ensure that safety is a core principle that forms their company culture. Whether you are the manager, technician entrepreneur, or all of them at once, attention to a serious, organized and committed safety program isn't just expected in today's workplace — it's mandatory.
Make Safety a Team Effort
A thorough and effective safety program takes a big-picture approach. It's more than just compliance with government rules and regulations. Companies that have a true safety culture don't simply pay lip-service to posters and slogans. They know total buy-in from management, employees and all business partners is vital to preventing and reducing workplace accidents and dangerous incidents. To them, safety is simply the way they do business.

Safety is just as important as understanding the project needs, deciding whether to buy or rent equipment, timing rental equipment and partnering with the right supplier.
The right rental equipment supplier will be a partner in your safety program, and is part of your insurance against making costly mistakes. Professional equipment suppliers ensure that every piece is safely maintained and all specialty operation instructions and precautions are provided with the equipment.
Your rental supplier is also an excellent source of knowledge on personal protection equipment (PPE). Safety items like hi-vis clothing, boots, gloves, eye and ear protection, fall-arrest kits and breathing apparatus should be part of your safety plan for your business.
Rent from MacAllister Rentals
MacAllister Rentals is committed to being a preferred landscape equipment rental supplier with a dedication to safety. We strive to help you avoid costly mistakes and operate a safe and profitable business.

At MacAllister Rentals, we can assist with all of your landscape needs, no matter how big or small the job might be. Learn more about our available landscape equipment rentals before you start your next landscaping project.