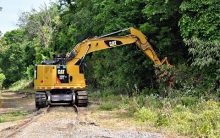 When you need to install new tracks or maintain existing lines, MacAllister has the rental equipment you need to get the job down. From work tools to specialized rail equipment, MacAllister is here to assist with your temporary equipment needs.
Rental Equipment for the Railroad Industry
For specialized rail equipment, including rail equipment backhoes, loaders and excavator and rail attachments, please see our MacAllister Railroad Machinery site.
For general equipment and contractor tools , please see our equipment rental page.
Browse our equipment selection online or contact us today to request a free quote.