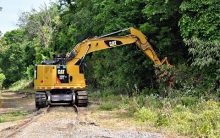 To stay competitive in the railroad industry, it's crucial to utilize heavy equipment and machinery to maximize productivity. When you have a project or application that exceeds the capacity or capabilities of your permanent fleet, flexible rentals provide a cost-effective alternative to purchasing new.
Whether you're installing new tracks, maintaining existing lines or tackling a broad range of construction and earthmoving applications, MacAllister has the rental equipment you need to get the job done. Our team of railroad equipment rental professionals will assist in analyzing your requirements to deliver a solution that represents the most efficient fit.
Rental Equipment for the Railroad Industry
From work tools to specialized rail equipment, MacAllister is here to assist with your temporary equipment needs. We carry a large inventory of boom trucks, log trucks and rotary dump trucks with Hi-Rail Gear along with sheet and pile drivers, tampers, undercutters and more. You'll find everything from carts and trailers for transporting equipment and materials to man lifts and bridge booms for working at elevated positions, all in one convenient place.
As a division of MacAllister Machinery, the authorized Cat® dealer serving customers across Indiana and Michigan, we also offer a complete line of premium heavy machinery and general rental equipment for the railroad industry. Our inventory includes low-hour, late-model units from Caterpillar® and other noteworthy brands. Whether you're looking for backhoes equipped with hydraulic thumb and rail guide wheels, versatile track-type and wheel excavators, or wheel loaders outfitted with fork attachments and modified for transport, you're able to access top-quality products on demand.
For specialized rail equipment, including rail equipment backhoes, loaders and excavator and rail attachments, please see our MacAllister Railroad Machinery site. Our Railroad Division is a one-stop shop for equipment specialized for railroad applications.
For general equipment and contractor tools, please see our equipment rental page. MacAllister Rentals is a go-to source for compact equipment and heavy machinery, lifts, power systems, utility vehicles, drills, electric jackhammers and many other tools and attachments.
When Renting Railroad Equipment Is Right for Your Business
Whether you're a growing company looking to control costs and increase your capabilities, or you're searching for an economical way to temporarily replace a machine that's out of commission,renting is a smart alternative to purchasing new or used. Our rental equipment for the railroad industry is ideal for short-term projects and applications and reduces expenses relating to storing, transporting and servicing a more robust fleet. You benefit from increased flexibility and profitability, helping you take on bigger jobs and a broader range of applications.
At MacAllister Rentals, we call on our product knowledge and industry expertise to ensure we have the models of equipment you're looking for in stock and ready to perform. We offer daily, weekly, monthly and longer-term rates as well as customized agreements based on your unique needs. We are also fully equipped to provide emergency railroad equipment for rent to minimize downtime and keep your operation moving forward.
Additional reasons to partner with us include:
Modern fleet of durable and reliable rental machines
Locally owned family business with extensive industry experience
Personalized service and unparalleled customer care and technical support
Conveniently located rental locations serving IN and MI
Reserve Your Railroad Equipment From MacAllister Rentals
Browse our current inventory of general equipment and contractor tools on our website or visit MacAllister Railroad Machinery for specialized railroad equipment for rent. Give us a call, contact us online or visit us in person at the rental store in your area to request more information and a free quote.