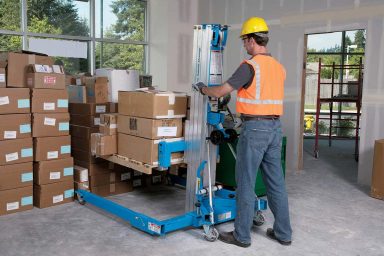 Whether you work in a warehouse, on a construction crew or in an HVAC installation team, utilizing material lifts can help reduce musculoskeletal injuries from heavy lifting.
At MacAllister Rentals, we offer a variety of  Genie material lifts for rent. Our duct lift rentals have a max lift height of 24 feet to help you safely lift materials for any job. Keep your team safe and productive by renting a material lift from one of our locations in Indiana or Michigan.
For more details and pricing, call us at (877) 700-1945.
| Brand | Model | Max Lift Height | Capacity | Stowed Height | Weight |
| --- | --- | --- | --- | --- | --- |
| Genie | SLA-20 | 21′ 2.5″ | 800 lb | 6′ 6.5″ | 405 lb |
| Genie | SLC-24' | 24′ | 650 lb | 7′ 2″ | 347 lb |
Material lift availability may differ by location, so call us at (877) 700-1945 or contact our team for inventory near you.
Benefits of Using a Material Lift
Using a material lift is convenient and requires low maintenance, working to protect your employees and increase productivity. Specifically, its benefits include:
Increased worker safety: Employees in warehousing, construction or other heavy-lifting working conditions have a greater risk of developing musculoskeletal disorders affecting the muscles, blood vessels, nerves, tendons and ligaments. A material lift can do the work instead, saving workers from potential long-term harm to their bodies.
Protected products: Carrying and lifting products by hand can have a higher likelihood of accidental drops or damages. With a material lift, all a worker has to do is place the item in the lift and press a button.
Enhanced productivity: Moving heavy objects is time-consuming and can lead to quicker fatigue. This workflow can become inefficient, as workers need to take multiple breaks. Material lifts are easy to load and operate, increasing productivity and reducing the need for strenuous physical labor.
Customizable features: Material lifts are versatile, with multiple options and accessories available. This aspect ensures one lift can be used for various jobs within the workplace.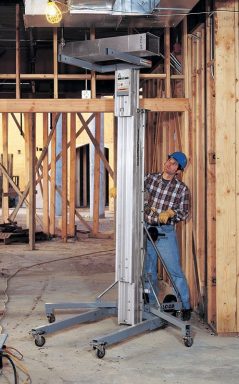 How to Rent With MacAllister Rentals
MacAllister Rentals makes it easy to find heavy-duty equipment. Follow these steps to rent the right material lift for the job:
Find a location near you: MacAllister Rentals has locations across Indiana and Michigan's lower peninsula in urban and rural areas. Find a location most convenient to you and your jobsite.
Check our website: We keep our website up to date with detailed descriptions and manufacturer links. Our continual updates ensure you can find the right size, power and features for your rental.
Call us: Our experts are only a phone call away to help you find the right equipment. We will give you a quote for the rental and confirm the equipment is available at your chosen location.
Pick up your equipment: Our material lifts can easily fit in the bed of a pickup truck. We will let you know if any other equipment is required for easy pickup.
Rent Material Lifts Near You
MacAllister Rentals looks forward to being your chosen material lift rental facility. Contact us for more information.