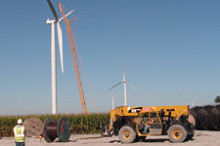 When you need to rent a telehandler in Indiana or Michigan, turn to the region's Cat® specialist and leading provider of short- and long-term equipment solutions. MacAllister Rentals has an extensive inventory of rental construction equipment and backs up everything we do with exclusive, on-site service and maintenance.
If you need additional working capacity to meet the demands of a one-off job, or to keep your fleet running at full capacity while key assets are down for repairs, we can help. Keep reading to learn more about our telehandler rental options, or contact a MacAllister Rentals location near you for assistance.
Below are some basic specs on the telehandlers available for rent. For more details and pricing, call us at (877) 700-1945.
| Model | Max Capacity | Total Stick | Full Stick Cap.* | Operating Weight** |
| --- | --- | --- | --- | --- |
| Cat TH255 | 5,500 | 18′ 4″ | 4,400 | 10,800 |
| SkyTrak 6036 | 6,000 | 36′ 1″ | 6,000 | 21,300 |
| SkyTrak 6042 | 6,000 | 41′ 11″ | 6,000 | 25,100 |
| Cat TL642 | 6,500 | 42′ | 6,500 | 20,240 |
| SkyTrak 8042 | 8,000 | 41′ 11″ | 6,000 | 27,100 |
| Lull 844-42 | 8,000 | 42′ | 6,000 | – |
| Lull 944-42 | 9,000 | 42′ | 6,000 | 26,800 |
| Cat TL943 | 9,000 | 43′ | 7,000 | 26,050 |
| SkyTrak 10054 | 10,000 | 53′ 11″ | 4,000 | 28,200 |
| Lull 1044-54 | 10,000 | 54′ | 4,000 | 31,350 |
| Cat TL1055 | 10,000 | 55′ | 5,000 | 34,700 |
| Cat TH580 | 11,000 | 56′ | 5,000 | 30,100 |
| Cat TL1255 | 12,000 | 56′ | 4,000 | 35,400 |
| Skyjack ZB20044 | 15,000 | 44′ | 7,000 | 45,000 |
*Full Stick Cap, is max load with outriggers down, with boom straight up.
** Operating weight is appx, weight varies on additional options.
Availability may vary by location – give us a call at (877) 700-1945 or contact us online for details.
Machine specs can vary from model year to model year. Consult the serial plate and/or operators & safety manual for accurate machine specs.
Check out our material handling equipment resources:
Our Telehandler Rental Fleet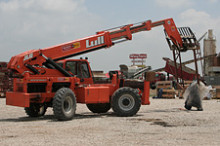 MacAllister Rentals offers a wide variety of telehandlers from Cat, JLG, Skyjack, SkyTrak and Lull, with lifting capacities from 5,500 to 11,000 pounds and maximum reach up to 56'. All units in our rental inventory have low hours and are delivered fully serviced and ready to use in your application. In addition to standard telehandlers for general-purpose construction and agriculture applications, we also rent the following specialty units:
Rough terrain telehandlers: Built for maximum stability, Cat rough terrain telehandlers are designed to give you confidence when working in remote locations or difficult underfoot conditions. For additional on-the-job flexibility, our rough terrain telescopic forklifts can be equipped with standard or wide fork carriages, truss brooms, buckets, winches, trash hoppers and a number of other work tools.
Compact telehandlers: Compact telehandlers are essential for maneuvering in tight confines, making them ideal for residential construction and other applications where space is at a premium. Our super compact telehandler (Cat TH255) will even take skid steer attachments such as tillers, augers, brooms, rakes and more — as a result, it is capable of doing the work of multiple machines, saving you rental, transportation and operating costs.
Below are some basic specs on the telehandlers available for rent. Unsure which telehandler rental is best for your application? A MacAllister Rentals representative will be happy to help. Visit us in Indianapolis, Bloomington, Fort Wayne or any of our other locations to get started.
Why Rent a Telehandler from MacAllister Rentals?
MacAllister has a long history of providing comprehensive equipment solutions for clients in Michigan and Indiana. When you rent a telehandler from us, you can count on our equipment and our team to deliver the following benefits:
Lower operating costs: A newer, well-maintained rental fleet will deliver better productivity, lower fuel consumption and a number of other working advantages that help you get the job done on time and on budget. MacAllister Rentals is the only rental store in our region to maintain its fleet to Cat dealer standards, using exclusive diagnostic technologies that greatly reduce the risk of a sudden breakdown. When a telehandler rental is essential to the success of your project, you can count on us to deliver a reliable machine at an affordable rate.
On-site service and support: If you do have a problem with your telehandler rental — or if you're renting for a longer period of time and routine maintenance is required — we'll send a team of qualified technicians to your location to take care of the issue right away. Our on-site service capabilities are unmatched in our region, which makes us the best place to rent a telehandler in Indiana and Michigan with confidence.
Flexible rental packages: Rent by the day, the week, the month or longer. We can put together a package containing a machine suitable for your application, and all accessories necessary to get the job done right. Contact MacAllister Rentals directly to discuss your options and have one of our representatives put together a quote for a complete turnkey equipment solution.
Ready to get started? Visit our locations page or call us at (877) 700-1945 to find a store near you.