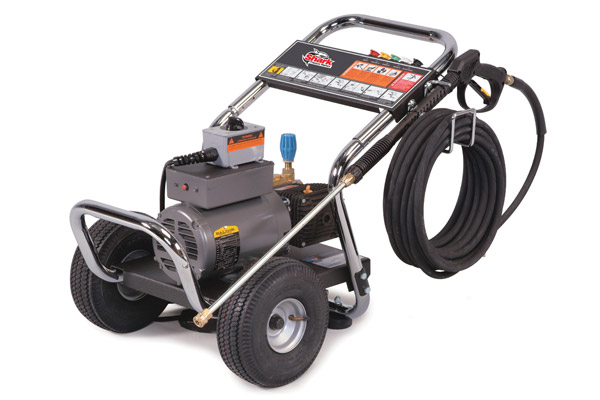 When it's time for you to rent a power washer, you might want a variety of equipment with both hot and cold water options. If that's the case, MacAllister Rentals has the right rentals for you. Our rental units put out a pressure of up to 5,000 psi and renting with us provides several unique benefits. Throughout Michigan and Indiana, we offer rentals of pressure washers and other equipment to help your business deliver superior results.
Availability may vary by location – give us a call at (877) 700-1945 or contact us online for details.
What Is a Power Washer?
Pressure washers are high-pressure water sprayers that help to remove different substances from surfaces that need to be cleaned. Many mechanical pressure washers can spray hot or cold water, the importance of which depends on your precise application. Their volume is expressed in liters or gallons per minute, and this characteristic is usually designed directly into the pump, which means it cannot be changed. Pressure is denoted in psi and can be adjusted using the unloader valve.
Should I Rent a Pressure Washer?
You might need to remove mud, grime, mold, loose paint, dirt or other substances from surfaces in or around your work site before you can continue with your work. These surfaces could include concrete, buildings, vehicles, equipment and any other object or area you need to thoroughly clean that wouldn't be damaged by the immense power of a pressure washer.
If you realize you need a pressure washer for a certain job or that you want to be able to access one without buying your own, you can rely on MacAllister Rentals to provide high-quality power washer rentals. Renting gives you access to countless benefits:
Affordable Rental Rates: Renting is already significantly less expensive than buying. Since you'll use your pressure washer rental only when you need it, you'll gain all the benefits of this tool without as much effect on your budget.
Wider Equipment Selection: For the same amount that it would cost to buy one piece of new equipment, you can rent several.
Convenience of Renting vs. Buying: If you plan to use a power washer only occasionally or for a certain period of time, it makes more sense to have someone else take care of storage and maintenance. You can use the equipment when you need it, without obligation.
How to Get a Power Washer Rental
If you want to rent a power washer for your job site, you've come to the right place. MacAllister Rentals provides a wide range of equipment on demand that comes from several leading manufacturers, including various makes and models. Advantages of renting with us include:
24/7 rental support with peerless product knowledge, customer service and technical assistance
Convenient equipment rental locations throughout Michigan and Indiana, such as Kokomo, IN, Lansing, MI, and Midland, MI
A wide selection of low-hour, late-model, well-maintained, older equipment options
Impressive equipment availability, simple ordering and quick delivery
Rental contracts that are daily, weekly, monthly or longer-term
Many contractors have realized that pressure washer rentals from MacAllister Rentals are right for them. If you're looking for the best rental options, contact us today for more information!