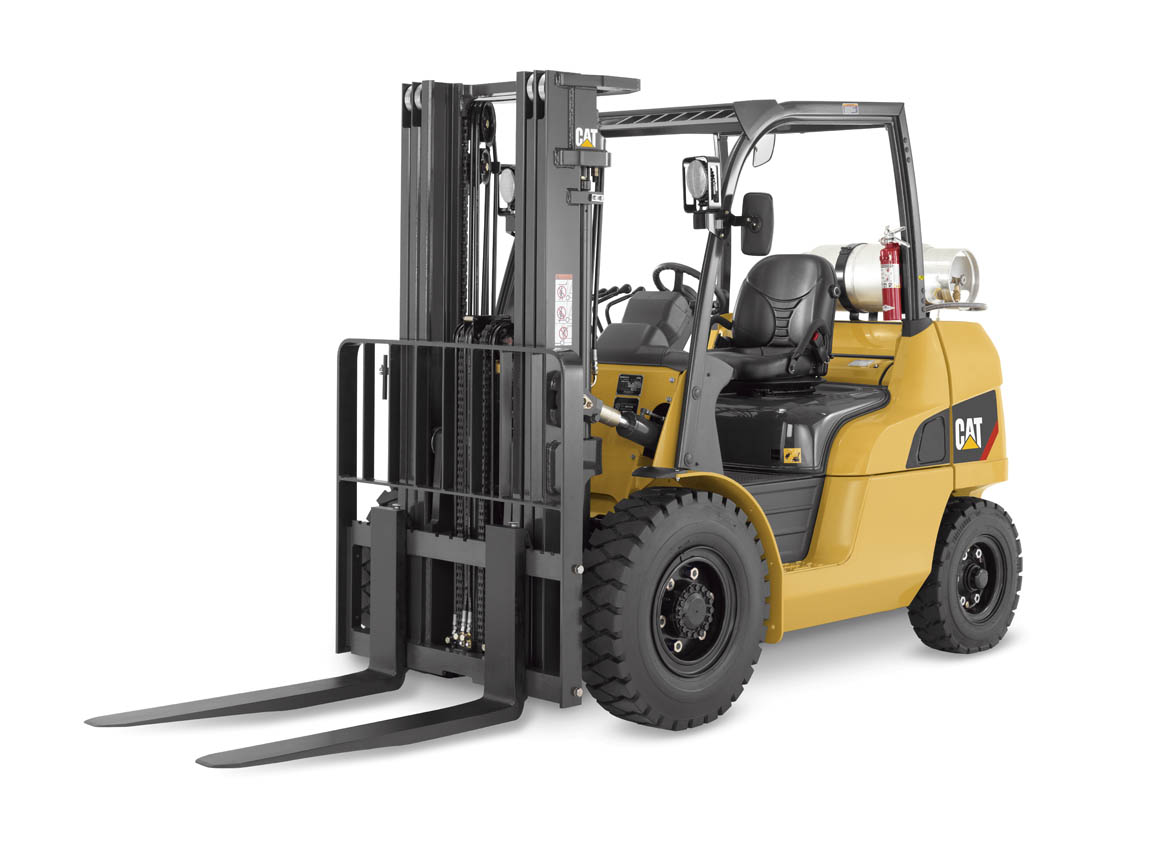 MacAllister Rentals can meet many of your industrial forklift needs. We have forklifts that are capable of lifting at 20 feet, and we also rent Harlo and JCB 8,000 pound capacity rough terrain forklifts with the ability to reach up to 28 feet.
For more details and pricing, call us at (877) 700-1945.
| Model | Continuous output (hp) | Weight (lb) | Capacity (lb) |
| --- | --- | --- | --- |
| C5000 |  63 |  8,110 |  5,000 |
| P5000 |  61 |  7,990 |  5,000 |
| C6000 |  63 |  9,440 |  6,000 |
| P6000 |  61 |  9,400 |  6,000 |
| C8000 |  97 |  12,900 |  8,000 |
| P8000 |  97 |  12,900 |  8,000 |
| GP40 |  97 |  12,920 |  8,000 |
| DP40 |  72 |  13,050 |  8,000 |
| DP45 |  72 |  13,960 |  9,000 |
| M30 |  75 |  5,485 |  6,600 |
| HP8500 |  110 | |  8,500 |
| T150 | |  20,000 |  15,000 |
Availability may vary by location – give us a call at (877) 700-1945 or contact us online for details.
Machine specs can vary from model year to model year. Consult the serial plate and/or operators & safety manual for accurate machine specs.
Check out our material handling equipment resources:
Rent Electric or Internal Combustion Forklifts with MacAllister Rentals
We carry both electric and internal combustion forklifts, with capacities from 5,000 to 40,000 pounds and lifts with cushion or pneumatic tires. With a product range like that, we know you'll find the perfect mix of performance and value. Like with any heavy-duty or industrial equipment, both undersized and oversized equipment can cause problems, such as:
Undersized equipment, such as an electric or combustion forklift with a capacity rating that is too low won't be able to lift the loads you have to move. At the very least this is an inconvenience, and in the worst case a potential source of accident if overloaded.
Oversized equipment, such as an industrial forklift rental rated to 8500 lbs that only lifts 500-lb pallets, will cost you more in rental and fuel charges and will be larger and less nimble than a smaller model adapted to your regular loads.
If you're a large business that's constantly running multiple forklifts, it may be possible to justify purchasing several different models. On the other hand, if you're a smaller business or only need occasional forklift use, renting a forklift from MacAllister Rentals in Indiana is the smart choice.
Heavy-Duty and Industrial Forklifts for Rent
What some people don't realize about a forklift purchase or long-term rental is that it's not only the monthly payment you have to worry about but also the regular maintenance. Forklifts are often run hard, which can wear out the tires, steering, suspension and electrical or fuel system. If you don't keep on top of regular maintenance, your forklift is at risk of breaking down.
When you rent an electric forklift or internal combustion forklift from MacAllister Rentals, we take care of the maintenance for you. We inspect, repair and upgrade every piece of equipment between uses, meaning when you rent a forklift, it is ready to go when it hits the ground. We worry about keeping it running so you can focus on adding value to your business and getting your goods moved, sorted and loaded.
Get a Rental Forklift in IN and MI
Power: We supply electric and internal combustion forklifts. If you run on a regular schedule and can include downtime for charging, electric is a great solution. If it's necessary to be able to change a fuel tank and get right back to work, and are equipped to stock flammables, a combustion forklift might be better suited.
Load: It's necessary to estimate two loads, your average load and your max load. Your heavy-duty forklift rental is never going to be running your average load near capacity, because that doesn't leave you much room for the occasional oversized load. You may not often hit your max load, but it's important to be ready for it if it occurs.
Size and maneuverability: If you're running your forklift in a yard, space and maneuverability might not be a great concern. If you're running in a warehouse or factory with narrow alleys, however, you'll want to pick a narrow forklift with a tight turning radius so you can maintain fast, fluid movement.
Tires: There are two choices in tire types, depending on the load — pneumatic or cushion. This typically comes down to feel and handling. Depending on the condition of your yard, warehouse or loading dock, one type of tires may be better suited to your situation. It's also important to consider wet versus dry conditions when you rent forklifts.
Once you've made your list and determined the features necessary in a forklift, it's time to contact or call our experts here at MacAllister Rentals at (877) 700-1945. You can fill in our online contact form or call us directly with your questions. We look forward to helping you find the perfect industrial forklift adapted to your needs. We also have location pages to make sure the equipment you need is available by you, such as in Byron Center, MI, Fishers, IN, Westfield, IN.
Contact us online or call us at (877) 700-1945 for your free quote.