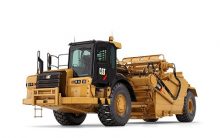 Whether you work in mining, aggregates, agriculture or a different industry, it pays to have a local source for high-quality equipment on demand. At MacAllister Rentals, we call on our extensive experience and broad capabilities to provide a variety of equipment rentals throughout Indiana and Michigan.
At MacAllister Rentals, our equipment fleet consists of compact and site support equipment. Through our corporate family, we can still meet your heavy equipment needs with MacAllister Machinery in the Indiana region and Michigan CAT in Michigan region. Please visit one of our sister sites today for more information on tractor scraper rentals.
Availability may vary by location – give us a call at (877) 700-1945 or contact us online for details.
Wheel Tractor Scraper Rentals
Having the right wheel tractor scrapers provides the ability to speed-up cycle times and deliver an improved cost per ton. MacAllister Machinery and Michigan CAT carry top-notch tractor scraper rentals manufactured by Caterpillar® and other leading brands. Whether you need a solution for coal stockpiling and retrieval, road building, clearing fields or collecting fine materials, you are sure to find the right machine for your particular applications.
Our rental inventory includes models in a range of sizes and powers to ensure an effective and efficient fit. We carry elevating scrapers, coal-bowl scrapers, open-bowl scrapers as well as twin-engine models. All of our rentals are serviced and maintained by our experienced team and are capable of tackling the toughest jobs. Additional reasons to choose a quality wheel tractor scraper rental from us include:
Powerful and durable machines offering exceptional safety and fuel efficiency
Low-hour, late-model equipment featuring the latest productivity technology
Quick loading, high travel speeds and on-the-go load and dump capabilities
Ergonomically-designed operator stations offering exceptional control
Spacious, comfortable cabs that reduce driver distractions and fatigue
Why Rent a Wheel Tractor Scraper?
Whether you are temporarily operating on a restricted budget, have a short-term or one-time application or want to try a piece of equipment before buying it, renting makes good sense. Our flexible terms mean you only pay for the machines you require when you have a use for them and are able to swap models based on your changing project applications. A wheel tractor scraper rental also eliminates the time and cost of servicing and maintaining your fleet.
We are a full-service dealer offering a broad range of products and services. Our team provides dedicated service and support before, during and after you rent to ensure your complete satisfaction. Whether you're looking to rent a tractor scraper for a day, week, month or longer, we'll help you identify the models that represent an efficient fit. We offer:
Exert guidance choosing the right equipment for the job
Competitive prices and free product quotes and demonstrations
Operator training and online resources for working more efficiently
Personalized service and attention to detail
Support and technical capabilities of an authorized Cat® dealer
Rent a Tractor Scraper
When you need to access reliable equipment on a temporary basis, we offer everything you need when and where you need it most. Visit MacAllister Machinery (Indiana) or Michigan CAT (Michigan) today for information on scraper rentals and to find our closest location to your jobsite.