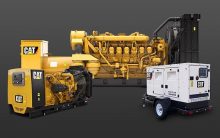 Whether you need power for a remote job site, planned facility maintenance, outage emergencies or an event, MacAllister has your temporary power needs covered. Our generator fleet induces small portable generators up to units capable of 2,000 kW. In addition to generators, we also carry a line of load banks, panels, disconnects, transformers, switchgears, transfer switches, UPS systems, turbines and industrial engines.
We can provide power generation rentals for the following:
Construction Sites
Entertainment and Events
Outage Emergencies
Natural Disasters
Planned Maintenance
Supplement Power
Load Testing
And More
Rental Equipment for Power Generation
For light power needs (up to 30 kW) , please see our generator rental page.
For heavy power needs (30 kW and above), please see our equipment offerings on our MacAllister Power Systems site.
Not sure what you need? Our rental power experts will ensure you have the right equipment for your job. Call us now at (877) 700-1945
Equipment Rentals for Power Plants
Additionally, we carry a line of rental equipment for power facility maintenance including:
Browse our equipment selection online, through our location pages, such as Bloomington, IN, Indianapolis, IN, and Fort Wayne, IN, or contact us today to request a free quote.