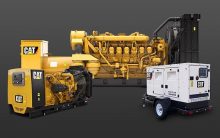 When you have a job or application that requires a piece of equipment you don't own, renting is often the most economical solution. If you have a temporary need for productive and reliable power generation equipment rentals, it pays to have a local source you know and trust. Whether you need power for a remote job site, planned facility maintenance, outage emergencies or another event, MacAllister has your temporary power needs covered.
We partner with businesses working in all different industries to ensure you have the right power equipment for your particular applications or regulatory environment. Our generator fleet includes small portable generators up to units capable of 2,000 kW. In addition to generators, we also carry a line of load banks, panels, disconnects, transformers, switchgears, transfer switches, UPS systems, turbines and industrial engines.
We can provide power generation rentals for the following:
Construction Sites
Entertainment and Events
Outage Emergencies
Natural Disasters
Planned Maintenance
Supplement Power
Load Testing
And More
Rental Equipment for Power Generation
Whether you work in heavy construction, road work, music and TV production, manufacturing, or another industry, it's critical to have the equipment required to power your operations. At MacAllister Rentals, we carry a large and diverse fleet of power generation equipment for rent for all different tasks and work environments. You'll find everything from mobile gensets for powering tools and machines during an unexpected outage to diesel engines and primary electrical power generators for boosting capabilities during periods of peak demand.
Renting power generation systems from us provides increased flexibility and access to a complete range of equipment whenever a need arises. You're able to avoid the significant expense of purchasing new or used, preserving your budget and improving your bottom line. In addition to rental equipment for power generation, we also offer a broad range of tools and machinery to support a safer and more productive job site.
Have a small project or residential application? For light power needs (up to 30 kW), please see our generator rental page.
Are you searching for a heavy-duty power system solution for commercial or industrial use? For heavy power needs (30 kW and above), please see our equipment offerings on our MacAllister Power Systems site.
Not sure what you need? Our rental power experts will ensure you have the right equipment for your job. Call us now at (877) 700-1945
Equipment Rentals for Power Plants
MacAllister Rentals is the go-to source for renting equipment for power plant facilities. In addition to a massive inventory of primary and standby generators and related products, we carry a line of rental equipment for power facility maintenance:
When Rental Equipment for Power Generation Is Right for Your Business
Industries across Indiana and Michigan rely on MacAllister Rentals for cost-effective temporary equipment solutions. Whether you're a growing business experiencing a boost in power demands or have a project that calls for power generation beyond the capabilities of your fleet, our rentals are a great fit for your needs. Additional reasons to rent include:
Increasing fleet versatility while limiting expenses
Replacing a unit that's undergoing maintenance or repairs
Handling a short-term or one-time application
Trying a particular model before deciding to buy it
MacAllister Rentals makes the process of finding the right power generation equipment as easy and affordable as possible. We carry a range of solutions to meet your particular power requirements. From daily, weekly, monthly and longer-term rates to low-hour late-model choices from Caterpillar® and other Allied brands, we'll help you find the products you're looking for that fit your budget and your project specifications.
Reserve Your Power Generation Equipment Rental

Browse our website to view our current inventory online, or visit MacAllister Power Systems for diesel-powered generators in sizes from 20kW to 2,000kW and a wide range of related electrical distribution equipment.
Contact us today or find the rental equipment location for power generation in your area to learn more and request a free quote.