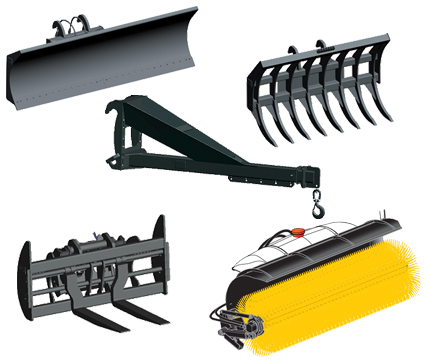 The right attachment can make all the difference. When you have a specific job to do, you want to save time and energy by choosing the work tool that was designed for the purpose. Here at MacAllister Rentals, we carry a large lineup of rental work tools to make it easier to find what you're looking for.
Renting from us is easy — you can review our product details online or contact us for more information to find the attachments you need. We inspect and service all of our attachments between rentals to ensure they're ready to be put to work right away and deliver performance and reliability you can count on.
Availability may vary by location – give us a call at (877) 700-1945 or contact us online for details.
Make Your Job Easier With the Right Work Tools
Work smarter by equipping your business with the right tools for the job at hand. Many of our customers have a temporary or emergency need for tools and benefit from our large selection of rental attachments for their construction and industrial machines. Learn which attachment is right for your job.
Consider useful attachments such as:
Aerators
Angle Blades
Augers
Brooms
Buckets
Bush Hogs
Harley Rakes
Grader Boxes
Grapple Buckets
Landscape Forks
Landscape Rakes
Landscape Tillers
Pallet Forks
Power Box Rakes
Pulverizes
Overseeders
Rock Hounds
Stump Grinders
Tillers
Trenchers
Vibratory Drum Compactors
Benefits of Renting Attachments
All of the rental equipment we carry has been designed to do a specific job. If you don't need to perform certain tasks on a regular basis, investing in your own equipment might not make sense. That's where our rental fleet comes in handy.
You can pick the work tool rental that suits the length of time that you need it and return it to us when you're done. That way, you don't have to worry about equipment maintenance, depreciation or storage when it's not in use.

This work is licensed under a Creative Commons Attribution-NoDerivs 3.0 United States License.
When to Rent Work Tools
While owning all of the equipment you need has its advantages, many of our customers find that renting offers great flexibility and savings. You can rent specific tools that you don't need all the time and save the investment cost. You can also choose a rental work tool from us when your own equipment is being serviced or already being used on another job. We take care of all service and maintenance so you can focus your time on the work you have to do.
Another popular use for rental equipment is to test out an attachment to see if it suits your business before investing in it. You can check out various features and performance and determine if the work tool is right for you. Choose the attachments and rental periods that suit and take the time to get familiar with them. Our helpful and knowledgeable work tool reps will take the time to show you how everything works and be sure you're getting the most out of your rental experience.
Contact Us Today
You can check out our product details online and discover all of the work tool rentals we have available. Read up on the different features and specifications and select the attachments that fit your application. You can also fill in our online contact form or give us a call for more information. We will help you choose the best attachments and arrange for rental that suits your schedule.
We invite you to contact us today so we can tell you more about our collection of rental work tools and help you find the right tool for your job.