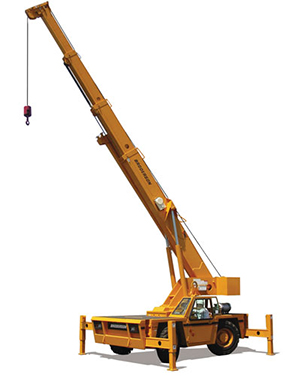 MacAllister Rentals offers Broderson industrial carry deck cranes. These cranes range from four-foot wide stand-in units that can lift 5,000 lb to 50,000 lb capacity units that have a max sheave height of 99 feet. These mobile cranes are perfect for moving material through smaller work zones and limited spaces because of their compact, low-profile design. Their ability to move around and underneath overhead obstacles also makes them a great choice for many projects.
Our deck crane inventory includes 8 models with a range of different heights and sizes to accommodate the needs of your project. Our professional rental staff at MacAllister Rentals can help you decide which deck crane meets your specific job requirements.
Brand
Model
Max Capacity (lb)
Sheave Height
Horizontal Reach
Stowed Dimensions
(Height x Width)
Boom Rotation
Weight (lb)
Broderson
IC-20
5,000
27′ 9″
22′
5′ 6″ x 4′
90°
6,380
Broderson
IC-35
8,000
33′ 4″
27′ 2″
6′ 6″ x 5′
360°
7,860
Broderson
IC-40
9,000
33′ 6″
27′
6′ 8″ x 5′ 4″
360°
8,920
Broderson
IC-80
18,000
46′ 8″
40′
7′ 3″ x 6′ 6″
360°
16,750
Broderson
IC-100
20,000
49′ 4″
33′
7′ 5″ x 6′ 6″
360°
17,520
Broderson
IC-200
30,000
73′ 10″
66′
8′ x 7′ 10.5″
360°
31,080
Broderson
IC-250
36,000
79′ 6″
70′ 1″
7′ 11″ x 7′ 10″
360°
37,700
Broderson
IC-400
50,000
99′
90′
11′ 3″ x 8′ 6″
360°
54,900
Machine specs can vary by model year. Consult the serial plate and operators' and safety manual for accurate equipment specs.
Availability may vary by location – give us a call at (877) 700-1945 or contact us online for details.
We also carry a line of mini crawler cranes – view crawler crane rentals.
Check out our material handling equipment resources:
What Is a Carry Deck Crane?
Carry deck cranes are versatile pick-and-carry cranes. They're built for lifting material that needs a low-profile and compact crane. Because carry deck cranes are small, they're ideal when it comes to operating in narrow spaces or around overhead obstacles.
Broderson's carry deck cranes feature direct mechanical controls. These controls help your team make smooth and accurate movements. This skill is important when working in a space-constrained site around obstacles. Different features and accessories are also available on carry deck cranes to meet your work site's needs.
Accessories can vary by model and may include:
Boom extensions
Boom work lights
All-weather cab
Four-wheel drive
Noise reduction package
Because a carry deck crane rental can meet the needs of many contractors and businesses, it's common to see it used in a lot of industrial and maintenance applications.
Why Rent a Carry Deck Crane?
With their small and convenient size, carry deck cranes are built for a variety of work site tasks. Assignments that often rely on a carry deck crane include:
Transporting materials across short distances
Delivering supplies to high and narrow work spaces
These tasks are why multiple industries, from steel to construction, use carry deck cranes. Why do companies choose to rent a carry deck crane? Small and large businesses rent our Broderson cranes because of the following:
Low project budget
Short-term crane use
Tight project schedule
Confined work spaces
Limited equipment storage
A company that's expanding their building, for instance, may choose to rent a carry deck crane if they only need it to bring their material, equipment and other hardware into the work space. In another example, a contractor may rent a crane if they're just starting out and need to keep costs low.
The MacAllister Rentals team makes renting a carry deck crane a quick and easy experience for your company.
How to Rent a Carry Deck Crane
We're carry deck crane rental experts at MacAllister Rentals. Our team is familiar with the Broderson brand. With our experience, we can help you find a carry deck crane that fits your project's needs. We'll also recommend one that offers the best advantages.
Renting equipment with us is simple. Just follow these three steps:
Complete our quote request form online or call our toll-free number
Receive our quote, review it and follow up with any questions
Schedule a delivery date and time and provide payment
It's that simple with MacAllister Rentals. Our team also makes themselves available to you throughout the rental process — both during and after.
Contact our team today if you're looking for carry deck cranes for rent or more information about our rental services. You can also view some of our location pages to get more information, such as Kokomo, IN, Lansing, MI, and Midland, MI. We're ready to offer our expertise.