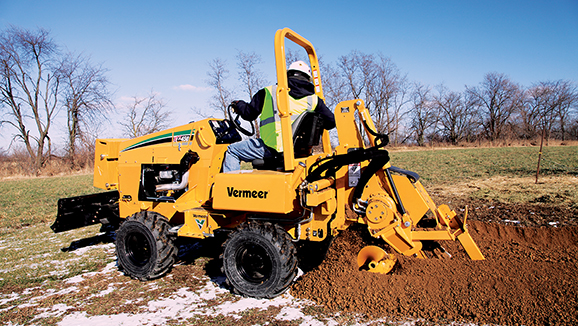 Whether trenching is the heart of your business or a task you need to take care of on specific jobs, a quality trencher is important. The right trenching equipment can save you time and make your trenching easier. Here at MacAllister Rentals, we have a number of rental options available for your trenching needs: ride-on, walk-behind and attachment.
Our experienced team can help you determine which type of trencher best suits your needs and will make quick work of all your trenching tasks. Each model has performance specifications and features to please different customers, so come and discover them all. We'll help you understand the differences and choose the right model for your trenching job.
For more details and pricing, call us at (877) 700-1945.
| Type | Brand | Model | Max Depth | Width |
| --- | --- | --- | --- | --- |
| Ride-On | Vermeer | RT350 | 48″ | 6″ |
| Ride-On | Vermeer | V3550 | 60″ | 6″ |
| Ride-On | Vermeer | RTX450 | 60″ | 6″ |
| Walk-Behind | Vermeer | RT100 | 18″ | 4″ |
| Walk-Behind | Vermeer | RT200 | 48″ | 6″ |
| Walk-Behind | Vermeer | V1350 | 36″ | 6″ |
| Walk-Behind | Vermeer | V2050 | 48″ | 6″ |
| Walk-Behind | Ditch Witch | 1820 | 48″ | 3.25″ |
| Walk-Behind | Barreto | 2324-TK | 48″ | 4″ |
Availability may vary by location – give us a call at (877) 700-1945 or contact us online for details.
Machine specs can vary from model year to model year. Review the serial plate and/or operators and safety manual for accurate equipment specs.
Our Rental Trencher Models
You can choose the type and model of trencher that suits your trenching requirements from our list of available rental trenchers:
Ride-on: These self-propelled trenchers provide a platform for the operator to stand on, making it a top choice for long trenching duties. We carry the leading Vermeer brand of ride-on trenchers.
Walk-behind: Designed for maneuvering in tight spaces, our walk-behind trenchers are versatile and suitable for a wide range of terrains and locations. Consider models from Vermeer, Barreto and Ditch Witch.
Attachment: Our attachment Cat trenchers are designed for installation on a wide range of Cat® equipment (compact track loaders, skid steer loaders, compact wheel loaders, etc.).
You'll get first-in-class capabilities and features no matter which model you choose. Our ride-on, walk-behind and attachment trenchers are easy to use, with advanced features for precise trenching and powering through difficult ground conditions. Check out the specification charts for the individual models to learn more about their impressive capabilities.
When to Rent a Trencher
Trenchers are used for many applications, including cutting narrow trenches for laying telephone, electrical or cable lines or for gas, water and other utility pipes. They can be used in any type of setting, such as industrial, commercial, construction, lawn maintenance and roadwork. They can also be adjusted to the depth of trench that you need.
Many of our customers rent from us when they have a unique job that they don't own the necessary equipment for. Others rely on us as a backup when their own trencher is out of service or being used elsewhere. You may also simply want to try out a different type of trencher than you're used to before purchasing and see if it suits your needs.
The distance you are trenching, the number of deviations from a straight line and the amount of space you have to work in will dictate the type and size of trencher you choose. If you're not sure which model suits your unique job, our helpful and knowledgeable team can help you choose.
Rent a Trencher Today
At MacAllister Rentals, we make it easy to find the rental trencher you need. Simply call us at (877) 700-1945 or fill in our online contact form with details on the type of trencher you need and we will prepare a quote. You can also give us a call and speak with us directly to get help deciding whether a ride-on, walk-behind or attachment trencher is best suited to your application.
Come and discover our impressive lineup of trenchers for rent and save time, energy and money next time you have trenching work to do. The right equipment can make your job easier, so equip yourself for trenching today!