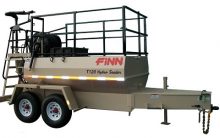 MacAllister Rentals is your source for seeding and erosion control equipment. We have a range of rental options available for clients in Michigan and Indiana, and many locations that make getting your equipment simple and convenient.
Our rental inventory includes FiNN® HydroSeeders, from the compact T60 to the 1,000-gallon T120. Check out the chart below for more specifications.
For more details and pricing, call us at (877) 700-1945.
| Brand | Model | Tank Size | Loads/Acre | Discharge Distance | Max Solid Material | Max Fiber Material |
| --- | --- | --- | --- | --- | --- | --- |
| FiNN | T60 | 500 Gallon | 6 | Up to 90′ | 1,550 lbs. | 250 lbs. |
| FiNN | T75 | 700 Gallon | 4.29 | Up to 150′ | 2,333 lbs. | 350 lbs. |
| FiNN | T90 | 800 Gallon | 3.75 | Up to 180′ | 2,500 lbs. | 400 lbs. |
| FiNN | T120 | 1,000 Gallon | 3 | Up to 180′ | 3,200 lbs. | 500 lbs. |
Availability may vary by location – give us a call at (877) 700-1945 or contact us online for details.
Erosion Control & Hydroseeding Equipment Rentals
FiNN introduced the first HydroSeeder in 1953. Immediately recognized as an efficient way to spread seed and fertilizer over large areas, HydroSeeders have become an industry standard for agriculture, landscaping and related applications. We offer several models today, with varying capacities and options that allow you to take on any job.
All HydroSeeders feature a hydraulic paddle agitation system. This unique design makes loading, mixing and discharge more efficient. Other advanced features found on HydroSeeder products include:
Variable controls for precise, independent adjustment of the agitator speed and paddle direction
A FiNN-exclusive centrifugal pump engineered to handle thick, hydraulic mulch slurries
An ergonomic discharge boom that ensures comfort at high-discharge pressures
Together, these features make FiNN HydroSeeders one of the most powerful, efficient, cost-effective and operator-friendly options for turf and erosion control. Rent a FiNN HydroSeeder from MacAllister Rentals for your next big job.
Applications and Advantages
Contractors count on FiNN HydroSeeders to deliver performance and reliability when taking on the following tasks:
Seeding
Erosion control
Landfill covering
Mine reclamation
Dust control
Fire suppression
Watering
Fertilizing
Benefits of choosing a FiNN machine include:
Profitability: FiNN HydroSeeders deliver efficient performance in steep slopes, rough terrain and other demanding applications. With a HydroSeeder, you can avoid the use of more labor-intensive seeding and erosion control methods. This saves money and contributes to your bottom line.
Versatility: Precise controls give you the ability to mix and mulch a wide range of materials, from water to thick slurries. Often, a single machine can do the work of many. Choose FiNN to reduce your overhead costs, travel and transport expenses, training requirements and more.
Performance: A FiNN HydroSeeder's patented, direct-drive clump pump provides maximum torque utilization. This allows you to spray greater distances with less wear on the unit's engine. As a result, you'll enjoy improved performance and better value for your rental dollar.
Take a deeper dive into the FiNN HydroSeeder in the video below:
Renting a FiNN HydroSeeder From MacAllister Rentals
We offer HydroSeeder rentals by the day, week, month or longer. Our team can put together a complete package of equipment and accessories for your upcoming job.
Whether you need to take on a big project or you're renting because your regular HydroSeeder is down for maintenance, we can help. Our fleet contains a range of well-maintained, low-hour machines. We stand behind all rental units with on-site service and support from our team.
Ready to get started? To request a quote to rent a HydroSeeder from MacAllister Rentals, call us at (877) 700-1945 or  get in touch with us today.