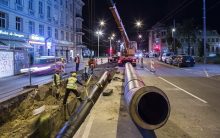 Utility work calls for a variety of equipment to perform your job safely and more efficiently. Whether you're installing power in a new residential complex, repairing water and gas lines, or maintaining sewers, MacAllister Rentals offers a complete selection of rentals to meet your short- and long-term project requirements. We understand your industry and provide customized solutions for helping you expand the capabilities of your fleet and reduce owning and operating expenses.
Equipment Rentals for Utility Work
If you install, maintain, or repair utilities, the work you do often involves unique challenges. From placing personnel at extremely high places to precision digging and earthmoving applications, having the right equipment isn't optional — it's a necessity. MacAllister Rentals carries a variety of options in utility rentals configured to your specifications.
We are home to one of the broadest inventories of aerial lifts for rent in Michigan and Indiana. We offer articulated knuckle booms, atrium lifts, electric boom lifts, electric scissor lifts, personnel carriers, rough terrain scissor lifts, and towable and mobile telescopic booms. No matter the height, reach, capacity requirements, or the type of terrain or work environment, we have a solution.
Additional rental products for utility work include:
Economical and Efficient Rental Solutions
It's our goal to provide the right rental products and services to help you get more done while preserving your valuable resources. Renting from us is the cost-effective way to temporarily replace a damaged machine or supplement your fleet to take on more work without purchasing new. Whether faced with an application that calls for a specific model or you're interested in increasing your business versatility, our short- and long-term rentals are an economical and efficient solution.
MacAllister Rentals is home to a broad range of equipment rental options in Indiana and Michigan for working on power lines, water lines, gas lines, sewer lines and other utilities. We have several locations, such as Columbus, IN, Lansing, MI, and Niles, MI. Our fleet comprises late-model machines that are tested and maintained by our in-house team of highly trained technicians. From expert guidance choosing the right products to exceptional customer service and technical support, we're the reliable source for rentals in the region.
Get in Touch About Rental Equipment for Utilities
We offer rental stores throughout our territory and in-store product pickup and delivery options for your convenience. Explore our online inventory and contact us to request a free quote. Our representatives are standing by to assist with your order.