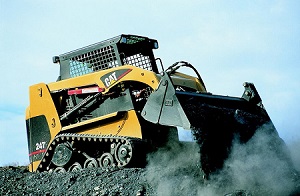 Cat® multi terrain loaders are built to go anywhere conventional machinery can't. With low ground pressures and a small footprint, they are suitable for use in soft underfoot conditions and other specialized applications. Like all Cat compact construction machines, they can also be counted on for reliable performance, low operating costs and a number of other important advantages.
If you need to rent a multi terrain loader in Indiana and Michigan, contact MacAllister Rentals first. We are the exclusive Cat dealer for our territory and, as a result, we have one of the best selections of new, low-hour rental machines by the legendary manufacturer. We're also the only place to service our rental fleet according to Cat standards, using sophisticated diagnostic technologies that take the guesswork out of preventative maintenance.
Model
Net hp
Oper. Capacity (lb)
tip load: 35% / 50%
Width (in)
Length w/o
Bucket (in)
Clearance at Max.
Lift & Dump (in)
247B
57
1367 / 1950
66
99.1
84
277C
82
2300 / 3200
78
117.2
95.5
Availability may vary by location – give us a call at (877) 700-1945 or contact us online for details.
Machine specs can vary from model year to model year. Consult the serial plate and/or operators & safety manual for accurate machine specs.
Looking for other types of loaders? Browse Skid Steer Loaders, Large Track Loaders or Wheel Loaders.
About Cat Multi Terrain Loaders
Cat equipment is known for its seamless incorporation of advanced technology as well as its focus on design and performance. Advanced features you will only find when you rent a multi terrain loader from Indiana and Michigan's MacAllister Rentals include:
A sealed and pressurized cab designed for operator comfort. Featuring enhanced visibility, ergonomic, intuitive controls and an advanced display, Cat multi terrain loaders are engineered to reduce operator fatigue, improving productivity across a long shift. When renting a multi terrain loader, these same features make them easy to train staff on, so your crew can get up and running faster.
A fuel-efficient powertrain that doesn't sacrifice performance. Cat multi terrain loaders are powered by advanced engines compliant with current US EPA emissions standards. The Electronic Torque Management system provides improved power even as fuel consumption is kept to a minimum, while precision-engineered hydraulic components allow you to complete complex tasks in fewer passes.
Advanced leveling technology for working smarter in rough terrain. Cat multi terrain loaders feature the industry-leading ILEV system for more precise tool positioning and a smoother ride, even in difficult underfoot conditions. When you need to rent a multi terrain loader for a complex job in a remote location, Cat equipment puts the tools you need to succeed right at your fingertips.
Whether you're renting for a day, a week or longer, these are benefits that will help you run a more profitable and productive operation. See detailed machine specs by following the links below, or contact a MacAllister Rentals office near you for more information.
Rent With Confidence From MacAllister Rentals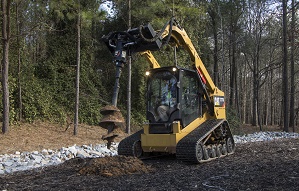 When you rent a multi terrain loader or other compact construction equipment, you need to know your machine has been faithfully maintained to the manufacturer's specifications.
As a Cat dealer, MacAllister Rentals upholds the highest standards of integrity in everything it does. All our multi terrain loader rentals are low-hour machines, filled with advanced features, that have been taken meticulous care of throughout their operational life. Best of all, on-site service is never more than a phone call away, thanks to a fleet of field service trucks that can be dispatched to your location at any time.
Quality Rentals for Every Occasion
Rent a Cat multi terrain loader to temporarily expand the working capacity of your fleet, or to stay up and running when repairs are required for one of your own machines. Renting can also be a longer-term equipment solution that allows you to avoid tying up your credit with a lease. It's also a great way to try a potential purchase out in real-world conditions before buying.
Whatever your reasons for renting a multi terrain loader, MacAllister Rentals can help. A network of convenient locations throughout the state allows us to serve clients in Bloomington, Indianapolis, Lansing and throughout Indiana and Michigan. To find a store near you, visit our locations page or call our head rental office directly.