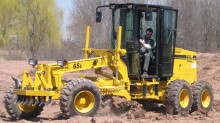 MacAllister Rentals offers the NORAM 65E Series Motor Grader in our rental fleet. With a 100 HP engine, center mount scarifier and 10′ sliding moldboard, this machine is manufactured to bring power and performance to the job site. Bigger motor grader units are also available through our Heavy Rental Division.
When you rent a grader from us, we also provide a variety of rental work tools and attachments to help unlock the full versatility and productivity of the machine. We offer different options ranging from ground-engaging implements to front- and rear-mounted tools to configure your motor grader rental to your project specifications. Our experienced team will assist in analyzing your needs to find the products and accessories that make the most sense for your business.
Availability may vary by location – give us a call at (877) 700-1945 or contact us online for details.
Productive and Reliable Motor Graders for Rent
Motor graders are essential equipment for building, maintaining and repairing roads and highways. The 65E Series is a compact grader designed to deliver the impressive productivity of a larger machine. Units offer the power to move heavy materials and exceptional control to tackle precision tasks. Benefits include deluxe cabs for operator comfort and a 90-degree bank slope saddle for improved visibility and performance.
Our late-model, low-hour NORAM motor grader rentals offer a six-speed forward full-power shift with torque converter and LCD operations monitor. Units also feature a 53-inch diameter gear driven circle, supported by an A-frame allowing for 360-degree rotations. Additional benefits include:
10-inch wide moldboard with a rollaway blade for smooth grading and finishing
Full light package and back-up alarm for improved jobsite safety and efficiency
Easy-to-read gauges and simple-to-master hydraulic operator controls
Strong and durable 8-by-2-foot dozer blade and 41-inch, nine-tooth scarifier
Learn more about the NORAM 65E Motor Grader
Machine specs can vary from model year to model year. Consult the serial plate and/or operators & safety manual for accurate machine specs.
Reasons to Rent a Motor Grader
When purchasing new or used equipment doesn't fit the budget or the plan, a temporary solution from MacAllister Rentals makes a lot of sense. The combination of our rental graders and work tool attachments provide the versatility to take on more work and a wider variety of applications. Whether your projects call for resurfacing and rebuilding roads or plowing snow and ice from paved surfaces, renting from us means you'll always have the right tools and equipment to get the job done efficiently.
Our flexible rental terms help businesses of all sizes control costs while expanding capabilities. When you rent a motor grader from us, you eliminate the expenses of owning and operating a larger fleet of equipment. We take care of maintenance services and can even assist with transportation, implementation and operator training.
Rent a Motor Grader Today
When you're looking to replace a machine that's in the shop or have an application that requires a particular piece of equipment or tool, MacAllister Rentals has the cost-effective solution. We're a trusted source for grader rentals throughout Indiana and Michigan offering the quality, selection and value you desire. We set ourselves apart from the competition by providing:
Convenient rental locations to serve you across the region
Unmatched customer service and ongoing technical support
Competitive daily, weekly, monthly and longer-term rates
Contact us, or visit the MacAllister Rentals location in your area for additional details, such as Brownstown Twp., MI, Columbus, IN, and Traverse City, MI.