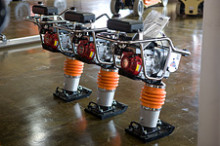 Are you looking for a high-quality plate compactor or tamper for a temporary or short-term project? Do you need to replace a compactor that is undergoing repairs or out of service? Do you want to bolster your equipment fleet without having to invest in a new purchase? Would you like to try out a new light compactor before making a buying commitment?
A tamper or rammer rental from MacAllister Rentals can provide the perfect solution to meet your needs. MacAllister Rentals has convenient locations throughout Indiana and Michigan, making your compactor rental easily accessible when you need it. Learn which type of light compactor is right for your job.
Type
Model
Centrif. Force
(ft/lbs)
Base Size
(WxL)
Eng. Size
(HP)
Wgt
(lbs)
Applications*
Plate Compactor
PCX400
3710
16″ x 28″
4.0
195
GS, SC, A, BP
Plate Compactor
SF460
4046
18″ x 24″
5.5
176
GS, SC
Jumping Jack/Rammer
RT66
3650
13″ x 11″
4.0
145
GS, SC, CC
Reversible Plate
RPC30/50
6748
20″ x 17″
5.5
390
GS, SC, CC, BP
Dbl Drum Smooth Roller
BRW 650
4500
28″ x 95″
6.5
1485
GS, SC, A
Pad Foot Trench Roller
TR34 Buldog
Plate Compactor
WP1550
Jumping Jack/Rammer
BS60
Reversible Plate
BPU3050
Reversible Plate
BPU4045
* Application Codes:
GS = Granular Soil
SC = Sand & Clay
CC = Cohesive Clay
A = Asphalt
BP = Block Paving
Availability may vary by location – give us a call at (877) 700-1945 or contact us online for details.
Machine specs can vary from model year to model year. Consult the serial plate and/or operators & safety manual for accurate machine specs.
Learn more about Belle Group Compactors, Multiqup Compactors and Wacker Neuson Compactors.
As a Belle Group Dealer, MacAllister Rentals rents some of the very finest light compaction equipment available. We also carry a Multiquip remote control capable pad foot trench roller. Each light compactor provides cost effective, high compaction performance that is based around maximizing the value of your rental. The versatility of the light compactors allows for use in a variety of applications so that all of your project needs are met. Due to our focus on customer safety, we test each piece of equipment for quality so that it will provide the most output while on the job. The professional MacAllister Rental team will work with you to determine what light compactor type and model is best for the needs of your project.
Explore the Various Types of Light Compaction Equipment
Light compactors are agile and versatile machines that are perfect for a variety of crushing, paving, flattening and leveling tasks. You can use these small compactors when working with materials such as clay, asphalt, soil and sand.

This work is licensed under a Creative Commons Attribution-NoDerivs 3.0 United States License.
Examples of the extensive MacAllister Rentals small compactor rental inventory include:
Jumping jack/rammer rentals: Jumping jacks, also known as rammers, work well for compacting jobs in confined areas inaccessible to larger machines. They provide the high rate of impact required when working with granular materials and soils.
Trench roller rentals: Trench rollers are the best choice for compacting backfill for trenches consisting of granular soil. Unlike other types of light compaction equipment, trench rollers are specifically designed and constructed to work within the narrow confines of trenches.
Tamper rentals: Tamping rammers deliver maximum performance in the most challenging worksite conditions. They provide exceptional maneuverability when performing backfilling and trench work in confined areas.
Plate compactor rentals: Plate compactors offer a reliable solution for compacting asphalt and granular soils.
When Should You Consider a Light Compactor Rental?
A compactor rental from MacAllister Rentals can serve numerous applications for industries such as construction, agriculture and aggregates.  Examples of when renting a tamper or plate compactor would make sense for your company include:
Executing temporary highway construction or repair projects that require paving or grade leveling
Performing road patching and shoulder repairs
Backfilling trenches at construction or building sites
Performing various landscaping tasks on residential properties, as well as commercial sites such as golf courses and college campuses
Performing precise compaction work around footings and foundations
Executing sidewalk repairs
Conducting various types of site preparation tasks
Constructing bicycle paths, basketball courts, tennis courts and other recreational surfaces
Regardless of your industry or application, you can count on us to provide a late-model, low-hour machine equipped with the most advanced technological features that make it easy to use. You will get a fast, convenient, affordable solution that will help keep your projects on schedule and within budget.
How to Rent a Light Compactor From MacAllister Rentals
You will find MacAllister Rentals locations throughout Indiana and Michigan to serve you, such as Muncie, IN, Wixom, MI, and Terre Haute, IN. Please take a few minutes to review our current light compactor rental inventory to learn more about your available options. If you can't find the compactor or tamper you're looking for, let us know, and we'll be happy to locate it for you. If you need more information or would like to request a quote, just give us a call or fill out and submit our convenient online contact form.