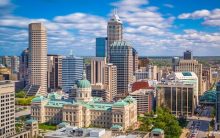 It's critical for agencies and contractors working on government and municipal projects to find cost-effective and efficient solutions to remain productive and competitive. No matter the size of the job or the specifications, MacAllister Rentals has the equipment and machinery in stock to support your unique requirements.
Whether you have a planned job or an emergency situation to respond to, our rental options for government and municipalities are the fast and reliable way to temporarily expand your fleet and keep pace with demand.
Equipment for Government & Municipalities Projects
We are a full-service equipment supplier for the complete range of government and municipal work performed at the federal, state and local levels. We partner with general contractors, municipalities, the department of transportation, and many other agencies to provide heavy equipment, trucks, tools, accessories, and power system solutions on a temporary basis. Whether you're building a water and waste treatment facility, maintaining highways, or refurbishing office space in a municipal complex, we have you covered.
Our impressive rental fleet includes an extensive selection of Cat® and Allied construction and earthmoving equipment such as skid steer loaders, hydraulic excavators, on- and off-highway trucks and more. We carry lift trucks and material handling solutions, air compression, electrical generators, portable lighting, climate control systems, and virtually any other type of equipment or machine needed to complete projects efficiently.
You'll also find forklifts, dump trucks, sweepers and trailers, pumps, trenchers, utility vehicles, water trucks and a variety of contractor and power tools. If you don't see what you are looking for on our site, let us know and we will help find it for you through our extended network.
The Advantages of Partnering With MacAllister Rentals
We call on our advanced knowledge of your industry and local experience to meet the needs of customers throughout Indiana and Michigan. Our equipment rentals are an ideal choice when you're trying to reduce operating expenses while taking on more work and a broader variety of applications. We also have several locations throughout Michigan and Indiana, such as Niles, MI, Warsaw, IN, and Indianapolis, IN.
From short-term projects that call for particular types of models to an emergency response to a natural disaster, accident or incident, renting from us delivers the versatility you require to be successful. Additional reasons to rent equipment from MacAllister Rentals include:
Flexible short- and longer-term rates based on your changing project requirements
Massive selection of products and options for all different government and municipal jobs
Low-hour, well-maintained machines from Caterpillar® and other premium brands
Expert product knowledge to help make the most informed decisions on what to rent
Unmatched customer services and technical expertise from a local, reliable source
Rent Equipment for Government & Municipalities Work Today
Whether you're in the market for an emergency generator, compact landscaping machines, or any other equipment, MacAllister Rentals works fast to get it to you and maximize uptime and productivity. Explore our online listings for more information on the models we have in stock and get in touch with us for additional assistance. Our experienced team will be happy to provide a free quote or arrange your rental order.