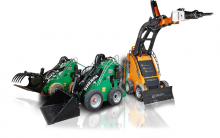 MacAllister Rentals is leading the way once again with the latest options for mini skid steer rentals. Imagine being able to get indoor demolition and other jobs in enclosed spaces done without manual labor or harmful exhaust fumes. Now you can — with the new SHERPA 100ECO Electric Skid Steer. With a front-mounted 2-HP electric motor and a 360-Ampere battery pack, this 76-cm wide compact skid loader can run up to eight hours in an environmentally friendly fashion.
| Brand | Model | Fuel | HP | Max Speed | Breakout Force | Width | Weight |
| --- | --- | --- | --- | --- | --- | --- | --- |
| SHERPA | 100ECO | Electric | 2 | 4 MPH | 1851 lbs | 30″ | 1591 lbs |
Availability may vary by location – give us a call at (877) 700-1945 or contact us online for details.
Looking for full size skid loaders? View full size skid loaders.
What Is an Electric Compact Skid Loader?
Compact utility loaders and walk behind skid steers are workhorses on many construction sites and projects. They take the tedious labor out of scores of jobs related to material handling, demolition, renovation, remodeling and more. But until Hanenberg Materieel Ltd. manufactured the SHERPA 100ECO — the first electric skid loader — an internal combustion powered model was your only choice. This meant when working indoors, in enclosed spaces or around animals in such buildings as barns and stables, a traditional skid steer that would give off noxious exhaust fumes wasn't a viable option.
With all the power of a combustion engine model, the SHERPA 100ECO gets to work fast. All you have to do is simply press its accelerator, which then builds pressure up in the system. Its battery pack — stored where an engine would be on a combustion model — is robust enough to put in an eight-hour shift, but with far less noise and no spent exhaust gases.
Why Rent an Electric Mini Skid Steer?
Designed for strength, reliability and productivity, the SHERPA 100ECO is more than just an environmentally friendly breakthrough. It's also a versatile piece of machinery that can save you on labor costs, reduce jobsite injuries and go wherever work needs to be done — inside or out. This is why, beyond its incredible electric capabilities, this stand-on skid steer can be fitted with a number of attachments to make almost any job easier.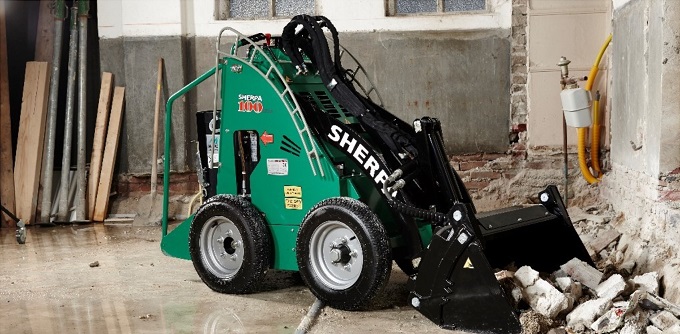 Whether you're a company owner, jobsite foreman or equipment operator, here are a few of the ways this electric skid steer can prove its worth on your next project with one or more of the following attachments:
Bucket: Transport heavy materials in tight spaces with buckets ranging between 2.5′ and 3.75′.
Grapple: Move materials quickly and safely with a grapple attachment.
Forks: Load, unload and move pallets easily with these pallet forks measuring 2′ by 7-1/2″.
Hammer: Break through concrete efficiently with less noise and no fumes while using the hydraulic hammer attachment with 450 foot-pounds of impact energy.
In addition, if your next project calls for it, ask us about the possibility of attaching an optional auger or vacuum attachment.
How to Rent an Electric Utility Loader
At MacAllister Rentals, we have a history of more than 70 years serving the construction equipment needs of our customers and neighbors. That means, when you rent from us, we dedicate ourselves to making sure your entire rental experience — before, during and after — is a good one.
Our team is highly knowledgeable and ready to answer all of your equipment questions, especially about new pieces of equipment like the SHERPA 100ECO. In addition, we offer both short- and long-term rental options, provide 24/7 customer support and even offer operator classes to help you safely get the most out of your equipment rental.
To learn more about our electric skid steers or any of the other quality rental equipment from our well-maintained inventory, simply contact us today.