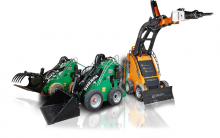 MacAllister Rentals is leading the way once again with the latest options for mini skid steer rentals. Imagine being able to get indoor demolition and other jobs in tight spaces done without the need or manual labor. Now you can — with a SHERPA electric skid steer or a Vermeer ride on skid loader.
For more details and pricing, call us at (877) 700-1945.
| Brand | Model | Fuel | HP | Max Speed | Width | Weight |
| --- | --- | --- | --- | --- | --- | --- |
| SHERPA | 100ECO | Electric | 2 | 4 MPH | 30″ | 1591 lbs |
| Vermeer | S450TX | Diesel | 24.8 | 3.5 MPH | 35.75″ | 2300 lbs |
Availability may vary by location – give us a call at (877) 700-1945 or contact us online for details.
Looking for full size skid loaders? View full size skid loaders.
What Is a Compact Skid Loader?
Compact utility loaders and walk behind skid steers are workhorses on many construction sites and projects. They take the tedious labor out of scores of jobs related to material handling, demolition, renovation, remodeling and more. Mini skid loaders come in variety of engine types, including both electric and diesel options. Whether you need to do demolition work indoors, without exhaust fumes, or landscaping work in a tight backyard, we have the right mini skid steer for you.
Ride On Skid Steer Rentals
Designed with landscapers in mind, the Vermeer S450TX provides excellent torque and maneuverability. The Kubota diesel engines provides all the torque needed to power any attachment that is equipped, while the light weight and small size allows you to work in tight spaces with minimal ground impact.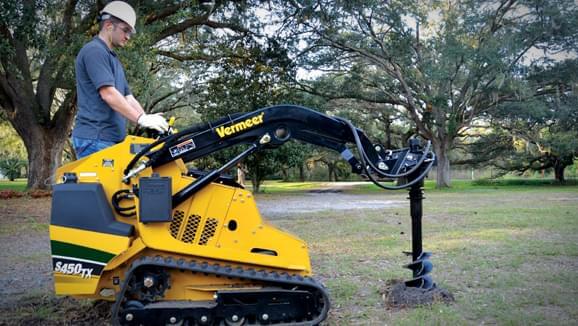 No matter what task your next job includes, Vermeer skid steers can be equipped with the following attachments:
Bucket: move dirt, sand, stone and other materials with using a wheelbarrow
Grapple: move branches and vegetation without distributing the turf
Blade: level out dirt and stones without breaking your back
Harley Rake: break up hard soils for easy leveling and seeding
Broom: clean up surfaces and debris
Sod Roller: skillfully roll and set new sod
Fork: move pallets and materials around with ease
Trencher: dig narrow trenches in tight spaces
Why Rent an Electric Mini Skid Steer?
Designed for strength, reliability and productivity, the SHERPA 100ECO is more than just an environmentally friendly breakthrough. It's also a versatile piece of machinery that can save you on labor costs, reduce jobsite injuries and go wherever work needs to be done — inside or out. This is why, beyond its incredible electric capabilities, this stand-on skid steer can be fitted with a number of attachments to make almost any job easier.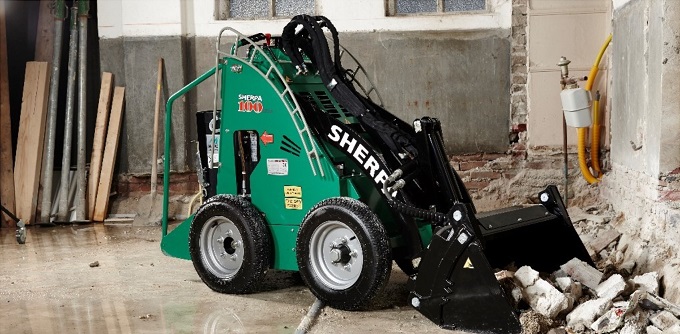 Whether you're a company owner, jobsite foreman or equipment operator, here are a few of the ways this electric skid steer can prove its worth on your next project with one or more of the following attachments:
Bucket: Transport heavy materials in tight spaces with buckets ranging between 2.5′ and 3.75′.
Grapple: Move materials quickly and safely with a grapple attachment.
Forks: Load, unload and move pallets easily with these pallet forks measuring 2′ by 7-1/2″.
Hammer: Break through concrete efficiently with less noise and no fumes while using the hydraulic hammer attachment with 450 foot-pounds of impact energy.
In addition, if your next project calls for it, ask us about the possibility of attaching an optional auger or vacuum attachment.
How to Rent a Mini Skid Steer Loader
At MacAllister Rentals, we have a history of more than 70 years serving the construction equipment needs of our customers and neighbors. That means, when you rent from us, we dedicate ourselves to making sure your entire rental experience — before, during and after — is a good one.
Our team is highly knowledgeable and ready to answer all of your equipment questions. In addition, we offer both short- and long-term rental options, provide 24/7 customer support and even offer operator classes to help you safely get the most out of your equipment rental.
To learn more about our mini skid steers or any of the other quality rental equipment from our well-maintained inventory, simply call us at (877) 700-1945 or contact us today.