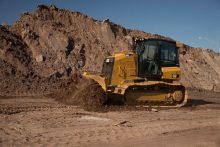 Bulldozers have been a staple of the Cat® equipment lineup since the company's founding in 1925. To this day, they remain known for their exceptional performance in the most demanding applications. When you rent a bulldozer from Indiana and Michigan's MacAllister Rentals, you are getting a well-maintained machine that will live up to this legacy. Contact a location near you or use the form on this page to request a quote for any upcoming job.
For more details and pricing, call us at (877) 700-1945.
| Model | Net hp | Weight (lb) | PSI |
| --- | --- | --- | --- |
| D3 | 73 | 17185 | 6.5 |
| D3LGP | 73 | 17842 | 4.3 |
| D4 | 84 | 17961 | 5.6 |
| D4LGP | 84 | 18742 | 4.24 |
| D5 | 96 | 20741 | 5.67 |
| D5LGP | 96 | 21347 | 4.52 |
Availability may vary by location – give us a call at (877) 700-1945 or contact us online for details.
Machine specs can vary from model year to model year. Consult the serial plate and/or operators & safety manual for accurate machine specs. If you need a larger bulldozer, please see our Heavy Rental Department.
Why Rent Cat Dozers?
A long history is important, but it means nothing for your organization if the current generation of Cat machines can't deliver on their promises. Fortunately, today's Cat dozers are more sophisticated than ever. Rent a Cat dozer from MacAllister Machinery and you'll get a machine that:
Is engineered for a wide range of applications, from heavy mining and material handling to construction, roadwork and landscaping
Offers fuel efficiency without sacrificing the power you need to get the job done right, making it a great choice for reliable performance in any task
Can be outfitted with a number of different work tools and other attachments, offering additional versatility and potentially doing the work of multiple machines
Has longer service intervals and easily accessible components, keeping maintenance requirements to a minimum
Features a comfortable operator station and intuitive controls that improve safety and are easy to train staff on
Want to learn more about the current selection of Cat dozers for rent from MacAllister Machinery? Contact a representative in your area today.
Our Fleet of Dozer Rentals
Our fleet of bulldozer rentals includes many low-hour, well-maintained machines, ranging from the 73 horsepower D3 to the 96 horsepower D5LGP. All units receive regular maintenance according to Cat schedules, and are delivered fully inspected and ready for use in the most demanding jobs.
At MacAllister Machinery, we stand behind all of our rental units with service that goes the extra mile to keep your crew working its best. We'll come to you for any repair or maintenance needs that arise over the course of your rental. Our fleet of field service trucks can be dispatched to locations throughout Indiana at any time, day or night, to respond to emergencies when they occur.
Why Rent a Bulldozer?
There are many reasons why renting a Cat bulldozer from MacAllister Machinery is the smart solution to your equipment needs. Renting is, of course, the best choice for any short-term equipment need, whether it's to temporarily expand the working capacity of your fleet or to remain productive when repairs are required on a key asset.
If you have a one-off job in a remote location, renting from MacAllister Machinery can save you money on transportation — our network includes stores in Indiana and Michigan, making it convenient and affordable to have a rental unit delivered to job sites throughout the region. Renting may also save you maintenance expenses — on a particularly demanding job, Cat equipment will deliver performance and durability other machines can't.
Finally, renting can also be a smart long-term solution. Our affordable monthly dozer rental rates are often a good alternative to buying outright. By avoiding a lease, you free up credit that can go towards other expenses, making it easier to expand your business through strategic acquisitions.
Request a Quote Today
MacAllister Machinery is proud to be your exclusive source for the best Cat rental dozers in Indiana and Michigan. We offer affordable, flexible rates as well as complete turnkey solutions for all your heavy equipment needs. A longstanding partner to construction and roadwork crews, we know your industry and your requirements, and will work with you to assure our mutual success.
Get started by calling us at (877) 700-1945 today. We have rental stores conveniently located in Bloomington, Ft. Wayne, Indianapolis, Muncie, Lansing and beyond — check out our locations page to find out where we are in your area.