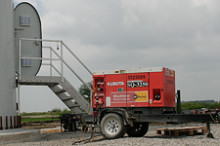 For those job sites and situations that require access to a reliable temporary power supply, MacAllister Rentals offers an extensive selection of generator rental units that can go wherever you go. You can count on us to provide the right generator for your unique power requirements at a price that fits your budget. In our generator rental fleet, we offer everything from portable 1,000 W suitcase-size Honda generators up to 30 kW towable units, which are perfect for numerous applications in Indiana and Michigan.
Availability may vary by location – give us a call at (877) 700-1945 or contact us online for details.
Not sure what size generator you need? Our generator experts will ensure you have the right generator for your job. Call us now at (877) 700-1945
We Offer Portable and Towable Generators from Top Manufacturers
Our generator rental inventory includes portable generator rentals that offer maximum mobility and ease of use. You will also find an assortment of towable generators you can pull with your vehicle to wherever you need an instant source of electricity. We offer top-quality power generation products from reputable manufacturers including Cat®, Honda and Kubota. You'll never have to worry about running out of power!
Portable Generator Rentals
A Honda generator rental offers a dependable, portable power solution for a wide variety of needs. You'll get the benefit of a small rental unit that doesn't come up short when it comes to power and reliability. Honda portable generators are known for their quiet operation – you won't have to worry about a whining generator disrupting your environment. They feature a compact, lightweight design for easy transport, and some models include wheels, so you can roll them to their destination. You will also appreciate the low operating cost provided by the fuel-efficient Honda engine.
As a Honda Power Equipment Dealer, MacAllister Rentals can take care of your light power needs. We have a variety of units available for purchase or rental.
EU2000
EU3000
EB5000
EB6500
Learn more about Honda generators at HondaPowerEquipment.com
Towable Generator Rentals
Our large towable Caterpillar and Kubota generators are capable of 20 kW and can run 208/120V 3 phase or 480/277V 3 phase and 240/120V single phase.
Machine specs can vary from model year to model year. Consult the serial plate and/or operators & safety manual for accurate machine specs.
For higher capacity power needs, visit MacAllister Power Systems or call (317) 545-2151.
Small Generator Rental Applications
A portable generator rental from MacAllister Rentals can provide a temporary mobile power generation solution for numerous applications. Renting a generator can also be much more cost-effective than buying, especially if you only need it for a one-time event or on an occasional basis. They provide fast and easy setup, which saves you time and hassles at your work or event location.
Our knowledgeable rental staff will be happy to discuss your power generation requirements and help you make the ideal match between generator and application. You will benefit from the first-class customer service that has been a MacAllister focal point since 1945.
Fast, Efficient Rental Service
With multiple locations throughout Indiana and Michigan, such as Greensburg, IN, Kalamazoo, MI, and Richmond, IN, you'll never have to travel far for a generator rental from MacAllister Rentals. We also do everything we can to ensure a quick and seamless rental process. To learn more or get a free quote, give us a call today. You can also request product and pricing information online by filling out and submitting our convenient contact form. We'll respond to your inquiry as soon as possible.