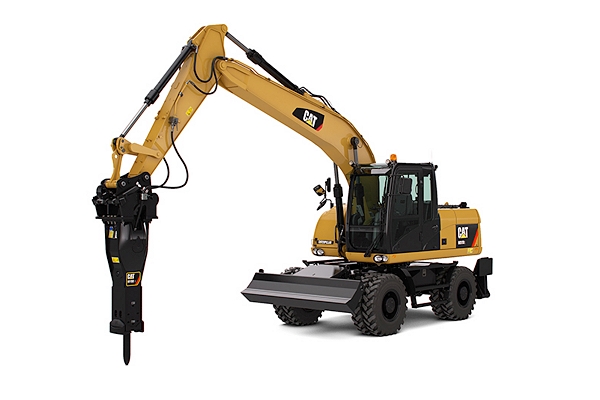 Wheel excavators are indispensable digging machines at many job sites. If you need a dependable wheel excavator for a short-term project or to keep up with a rapidly increasing workload, a Cat® wheel excavator rental from MacAllister Rentals can provide the ideal solution for your company. The Caterpillar® name has been synonymous with heavy equipment excellence for nearly 100 years. A Cat wheel excavator will help you get more work done in less time and keep your projects moving forward.
No matter the size of your job, Cat wheel excavators are known workhorses with a reputation for performance, productivity, and industry-leading uptime. If you need to rent a Cat wheel excavator, contact MacAllister Rentals today. As the region's Cat equipment dealer, we have one of the largest offerings of wheel excavators for rent in Indiana and Michigan.
| Model | Net hp | Weight (lb) | Std. Width | Travel Length | Cab Height | Tail Swing | Max Reach | Max Depth | Max Loading Hgt. |
| --- | --- | --- | --- | --- | --- | --- | --- | --- | --- |
| M316C | 138 | 39,028 | 8′ 4″ | 28′ 7″ | 10′ 5″ | 14′ 2″ | 28′ 11″ * | 18′ 10″ * | 21′ 0″ * |
| M318C | 151 | 42,220 | 8′ 4″ | 29′ 5″ | 10′ 5″ | 14′ 2″ | 30′ 1″ * | 20′ 2″ * | 21′ 1″ * |
* Stick lengths may vary.
Availability may vary by location – give us a call at (877) 700-1945 or contact us online for details.
Machine specs can vary from model year to model year. Consult the serial plate and/or operators & safety manual for accurate machine specs.
We Offer Several Types of Wheel Excavators for Rent
Wheel excavators are perfect for heavy-duty earthmoving and material-transporting projects. A descendant of the early steam shovel, the modern wheel excavator features a rotating "house" that rests on an undercarriage with wheels and includes a bucket and an operator cab. The house also has a hydraulically powered boom that can extend to load materials into trucks and other transport equipment. Adding attachments such as grapples, hammers and hooks will increase the excavator's versatility and value.
You can rent a wheel excavator from MacAllister Rentals with a maximum loading height of more than 21′ and a maximum reach that exceeds 30′. Available features include:
An advanced hydraulic system that delivers exceptional power and makes the machine easy to control
A robust, electronically controlled Cat diesel engine
An ergonomically designed operator station with enhanced comfort and safety features
An assortment of buckets and work tools that increase the machine's functionality and versatility
Our expert rental staff can help you make the perfect match between machine and application.
When Should You Consider a Wheel Excavator Rental From MacAllister Rentals?
A wheel excavator rental can provide the best solution if you need to add one machine — or several machines — to keep up with a sudden project volume increase, or if you're taking on a one-time job that requires additional equipment resources. You can also rent a wheel excavator from MacAllister Rentals if you're looking for a fast replacement for a machine that is in the shop for repairs. And renting is an excellent option if you'd like to try out an excavator for a few days or longer before making a purchasing commitment.
There are numerous applications for a wheel excavator rental, including:
Digging foundations at residential housing or commercial building construction sites
Scooping and loading stockpiles of materials onto trucks for transport to another location
Performing jobs previously executed by draglines or rope shovels on mining operations
The versatility of wheel excavators makes them an excellent choice for a wide variety of general material-handling tasks across countless industries.
Contact Us to Learn More About Your Wheel Excavator Rental Options
As a MacAllister Rentals customer, you will appreciate our flexible rental terms, streamlined process and detail-oriented service approach. Our goal is to get you the machine you need as quickly and seamlessly as possible so you can keep your projects on schedule. Feel free to contact us to learn more about our selection of wheel excavators for rent and to get a no-obligation machine quote.