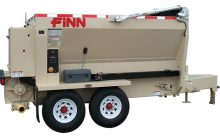 MacAllister Rentals has the right bark and mulch blower rentals for you. We have a large inventory of machines by FiNN®, a longstanding innovator in landscaping and agricultural equipment.
Our mulch and bark blower rental units are well-maintained and delivered to you in excellent condition. We can also provide any accessories you need to take on a demanding job.
For more details and pricing, call us at (877) 700-1945.
| Brand | Model | Capacity | Blower | Hose Reel |
| --- | --- | --- | --- | --- |
| FiNN | BB302 | 1.5 Cubic Yd | 500 cfm @ 10 psi | 150′ |
| FiNN | BB 5-Series | 5 Cubic Yd | 725 cfm @ 12 psi | 150′ |
Availability may vary by location – give us a call at (877) 700-1945 or contact us online for details.
Mulch Blowers & Bark Blower Rentals
Multitasking FiNN bark and mulching machines deliver results in any terrain. Use them for spreading landscaping mulches, topdressing with compost, new lawn installations, erosion control blankets, playground surface materials and more.
FiNN products offer reliable performance on hillsides, rough terrain and areas that demand superior maneuverability. Industry-leading features only found on FiNN equipment include:
A rotary airlock capable of conveying a range of materials and particle sizes, breaking them up to promote a more even spread.
A dust suppression system that lowers the number of airborne particles produced in dry, hot weather.
A high-volume, highly efficient air pump that carries material through hose lengths of 250 feet or more.
An electric tarp that automatically retracts to prevent material loss in transit or windy conditions.
Various accessories and optional features further expand the working capacity of FiNN products. When you rent a bark blower or mulch blower from MacAllister Rentals, our team will identify the machine and accessories that will deliver the best performance for your job.
Applications and Benefits
Choose a FiNN mulch blower for any residential or commercial landscaping, erosion control or construction project. Engineered for efficiency and affordability, FiNN machines are an excellent rental option.
Use a FiNN machine to spread bark mulch, soil blends, compost or wood chips. When you rent a bark blower from MacAllister Rentals, you'll benefit from:
Go-anywhere versatility that keeps you productive even in rough terrain and hard-to-reach spaces.
Superior results with less waste. By producing more even spreading patterns, FiNN machines deliver material savings of up to 25 percent.
Lower labor costs, as a single unit can often do the work of several crew members.
Want to learn more about the benefits and potential applications of a FiNN mulch blower? Get started by checking out the video below:
Renting From MacAllister Rentals
MacAllister Rentals provides bark and mulch blower rentals for customers throughout Indiana and Michigan. Our network of locations makes us a convenient choice for any business.
We offer affordable rates and complete turnkey service for our clients. For a small additional fee, we can even deliver your rental to your jobsite. We can also provide mobile repairs and maintenance for as long as you need your rental unit.
Quality FiNN machinery, combined with our commitment to service, means strong performance for you on any job. Find out why we're the professional's choice — request a quote online or call us at (877) 700-1945 to rent a mulch blower.