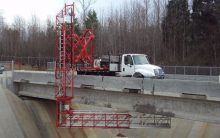 If you have applications that require safely positioning workers and materials under and around bridges and elevated structures, MacAllister Rentals has an efficient solution. We offer an array of options in Hydra platform rentals in addition to our aerial lifts and construction equipment. Learn more about our rental equipment for bridge construction and inspections. When you partner with us, we'll help you find the solutions that fit your project requirements and maximize profitability.
Availability may vary by location – give us a call at (877) 700-1945 or contact us online for details.
Under-Bridge Work Platform and Inspection Platform Rentals
Whether you work in construction, road maintenance, municipal or governmental, having access to reliable lift equipment is an operational advantage. MacAllister Rentals carries top-quality Hydra aerial work platforms in 18′ and 32′ lengths with 180-degree rotation for precision placement within a 1,000-square-foot area. Units are ideal for regular cleaning and maintenance, emergency repairs, construction, stripping operations, painting, sandblasting and inspections.
When you rent a Hydra platform from us, you benefit from a trailer-mounted unit that's easily transported and positioned. Terex Hydra platforms are built to provide exceptional stability for improved safety and more efficient performance. Our under-bridge work platform rental units offer:
Dual hydraulic outriggers for faster and smoother lowering and raising performance.
Tower Separation System for minimal disruption to under-bridge operations.
1,000-lb. platform weight capacity for carrying multiple workers and heavier loads.
Why Rent a Bridge Inspection Platform?
When buying equipment isn't the best option, renting is a viable solution for accessing quality work platforms on demand. A Hydra under-bridge platform rental helps avoid the significant expense of purchasing new while eliminating costs relating to storing and maintaining a more robust fleet. You're able to handle more diverse applications with the flexibility to swap out models based on your changing requirements.
At MacAllister Rentals, we carry productive and reliable lifts from leading manufacturers such as Genie and JLG. In addition to under-bridge platforms, we also offer an extensive selection of telescopic forklifts, cranes and contractor tools. All of our equipment is expertly cared for by certified technicians and meticulously tested to ensure peak performance.
Additional reasons to rent a bridge inspection platform from us include:
Top-notch product knowledge and technical expertise.
Convenient rental store locations throughout Indiana and Michigan.
Complimentary maintenance and available emergency support.
Competitive prices, credit options and personalized accounts.
Easy online shopping and ordering with fast delivery to your location.
Get in Touch With Us About Under-Bridge Platform Rentals
Shop our complete selection of Hydra platforms for rent to find the models you're searching for. For your convenience, we provide many locations across the region to rent equipment and machinery.
Use our locations page map to find the rental store in your area, then get in touch with us to speak with a knowledgeable representative about your project requirements. You can also contact us online to request assistance placing an order or drop by to see us in person for a free quote and product demonstration. We look forward to providing the products and services needed to help grow your business.