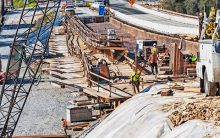 If you work in the bridge construction and maintenance industry, each new project comes with its own set of unique challenges. When you have a temporary need for a particular piece of machinery, it pays to have a local and reliable source for the equipment and tools you require. At MacAllister Rentals, we carry an extensive selection of aerial lifts, hydro platforms, and a variety of other equipment commonly used for bridge construction and maintenance.
Check out our current rental inventory below and get in touch with us if you have any trouble finding the right products. We're typically able to track down specific equipment through our network of sister companies.
Rental Equipment for the Bridge Construction & Maintenance Industry
Having access to the right equipment is critical for keeping pace with deadlines and maintaining safe, productive and efficient job sites. Whether you're building a suspension bridge or repairing a highway overpass, MacAllister Rentals has a broad range of quality solutions in stock. Our rental specialists will provide guidance and information to help choose the equipment and machinery suited to your applications and work environment.
Our selection of bridge construction and maintenance rentals include:
Aerial Lifts: We carry a variety of aerial lifts, including articulated knuckle booms and straight telescopic booms with vertical masts designed to safely position personnel and supplies in hard-to-reach elevated positions.
Hydro Platforms: Our aerial work platforms provide portable under-bridge access to 18 feet under the bridge and a 32-foot platform length to accommodate multiple workers.
Heavy Equipment: From telehandlers and skid loaders to backhoes and excavators, we are fully stocked with innovative Cat® construction machines for rent.
Power Solutions: MacAllister Rentals has the electrical power generators, air compressors, concrete saws, pressure washers and other power tools to support your applications.
Industrial Lighting: We carry light towers and portable lamps to help extend shifts and provide safe conditions for night work crews.
Why Renting Equipment Makes Good Sense
Whether you're a growing business with expanding job opportunities or you're focused on controlling costs and increasing flexibility, bridge construction and maintenance rentals provide an economical way to access the equipment you require.
Renting eliminates the need to buy new or used machines and reduces your owning and operating expenses, since you do not have to service and maintain a permanent fleet. A short- or long-term rental is also ideal for tackling one-time jobs that call for a specific model that is not in your fleet.
As a leading source for heavy equipment and related products in the region, MacAllister Rentals offers one of the largest and most diverse inventories in the area. All of our machines are tested and maintained by highly experienced mechanics and technicians. Additional reasons to rent with us include:
Flexible daily, weekly, monthly and extended term rates.
Reserve Your Bridge Construction & Maintenance Equipment Rentals Today
Renting with us is quick and easy. Browse online to learn more about our complete selection or contact us for assistance from a live representative and to request a free quote.