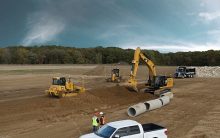 Few types of businesses rely on as broad a variety of heavy equipment and machinery as those that work in general construction. When you're looking to supplement your fleet to fill a short- or long-term need, MacAllister Rentals is the go-to source for temporary equipment solutions in Indiana, Michigan and the surrounding areas. From earthmoving machines and compact equipment to lifts, cranes, trucks, and generators, our experienced team will help you find the right products and get them to you fast to maximize uptime and profitability.
Equipment Rentals for the Construction Industry
As an authorized Cat® dealer, MacAllister Rentals carries one of the most significant and diverse inventories of construction equipment and power system solutions for rent by Caterpillar® in the region. Within our fleet, you'll find everything from dozers, backhoes, and excavators to telehandlers, skid steer loaders, and an assortment of other models.
We also offer an extensive selection of aerial lifts and personnel carriers, cranes, dump trucks, trailers, and more from other leading manufacturers. If you're looking for a backup emergency generator, air compressor, light towers, or temperature control, we're home to a wide range of power equipment.
Our current lineup includes:
We are proud to offer the local knowledge and industry experience to provide everything you require in a single convenient source. In addition to an extensive inventory of work tools and attachments, we also carry an assortment of small power tools such as concrete saws, electric jackhammers, lasers, rotary hammers, pressure washers, welders and more.
Whether you are clearing lots and laying foundations or building frames and hanging drywall, we're the one-stop shop for all of the equipment on your list.
The Benefits of Renting General Construction Equipment
If you're a business focused on increasing capabilities while eliminating costs and inefficiency, renting from us makes good sense. Whether you need a water truck for a month or sweepers, pumps, and light compactors for longer, we have you covered. Our rentals are available by the day, week, month, or custom terms based on your project specifications.
Renting a track loader, electric scissor lift, or any of our other equipment is a cost-effective way to access state-of-the-art machines on-demand. Our equipment rentals are ideal for one-time applications and increasing your fleet for larger projects or when you lack sufficient storage or maintenance capabilities. A temporary solution is also perfect for replacing damaged equipment or when you wish to see how a model performs before choosing to buy it.
Additional reasons to rent with us include:
Convenient online resources
Delivery options to meet your needs
Multiple MacAllister Rentals stores across Indiana and Michigan
Competitive prices on premium-quality machines
Unmatched customer service and technical expertise
Reserve Your General Construction Rental Equipment
Trust the experts at MacAllister Rentals to provide superior selection, availability, and value backed by the most reliable name in the industry. We take as much of the time and worry out finding the products you're searching for as possible, so you can concentrate on growing your business.
Contact us for more information on renting general construction equipment and to request a free quote.