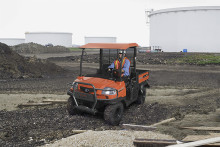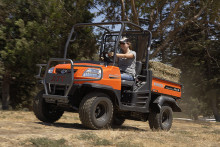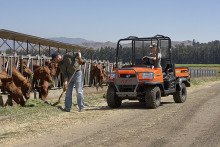 Are you looking for a rugged vehicle that can navigate challenging terrain at a temporary worksite? If you're in Michigan or Indiana, MacAllister Rentals has the perfect machine for your job tasks. We offer an extensive selection of utility vehicles for rent that deliver an unbeatable combination of remarkable power, reliable performance and a smooth, comfortable ride on all types of surfaces. Rent a UTV by the day, week, month or longer.
| Brand | Model | Fuel | HP | Max Speed |
| --- | --- | --- | --- | --- |
| Kubota | RTV900 | Diesel | 21.6 | 25 MPH |
Availability may vary by location – give us a call at (877) 700-1945 or contact us online for details.
We Offer Many Types of Utility Vehicle Rentals
When you choose MacAllister Rentals, you can rent a utility vehicle from a top manufacturer, ensuring unsurpassed quality and reliability. We feature machines from Kubota, one of the world's most respected and reputable power equipment providers. Our Kubota UTVs for rent include advanced features such as robust yet efficient diesel or gasoline engines, spacious cabs, state-of-the-art hydraulic systems and expansive cargo beds for hauling tools, materials and equipment. Our inventory can include compact, mid-size and full-size machines to accommodate any industrial, commercial or agricultural application.
We Offer UTVs for Rent for a Wide Variety of Applications
A UTV rental from MacAllister Rentals can serve numerous purposes. If you are supervising an expansive outdoor construction, forestry or mining project, you can use the vehicle to move between individual job sites and carry any tools or materials you might require to support your duties. Farmers can also use UTVs to traverse fields during the growing season to monitor crop progress and reach outlying areas that may not be accessible via pickup truck.
Mid- and full-size UTVs can also accommodate attachments, converting them to working machines that enable you and your employees to perform additional tasks on a property or job site. For example, you can equip the vehicle with a plow so you can move snow during the winter. If you're a farmer, you can add cultivation attachments you can pull behind the machine, enabling the UTV to function as a small tractor. You can also attach a brush cutter to help you clear lots and prepare them for building or developing.
We're a Full-Service Utility Vehicle Rental Provider
The MacAllister Rentals team includes experienced equipment professionals who will help you explore your options and choose the right machine for your tasks and budget requirements. Our streamlined renting process ensures a fast, hassle-free experience so you can get back to work as quickly as possible.
Contact a MacAllister Rentals store near you to learn more about your utility vehicle rental options — we have convenient locations throughout Michigan and Indiana to serve you. We'll also be happy to provide a no-obligation quote.