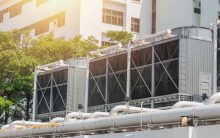 In the competitive HVAC industry, each project has the potential to present a unique set of applications and challenges. Whether you're a general contractor or you own and operate a commercial HVAC company, MacAllister Rentals is your go-to source for all of the machines, power solutions, tools, and accessories required to get the job done right. Our rental solutions are the fast and affordable way to access top-quality equipment at a fraction of the cost of purchasing new.
Rental Equipment for HVAC Professionals
We carry a broad variety of power and HVAC equipment for rent for any application or project size and scope. Whether you're a commercial electrical or mechanical contractor or you work in telecom, government, or oil and gas facilities, MacAllister Rentals is fully equipped to provide a variety of products for on-site installations, maintenance, repairs and emergency services. Within each product category, we offer a range of options to ensure you're able to find the solutions for increasing uptime and maximizing productivity.
From telehandlers and trenchers to cranes and all types of lift trucks and aerial work platforms, we provide a range of custom and turnkey HVAC solutions. We offer electrical generators to power your operation during repairs and when working in emergency conditions where a blackout has occurred.
Our Power System Division also rents climate control equipment such as heaters, air conditioners, and dehumidifiers for a safer work environment and improved comfort and results.
Why Partner With Us for HVAC Rentals?
Renting equipment from a reliable source provides a cost-effective way to temporarily expand your fleet's capabilities and tackle every job that comes your way. If you're a growing company that's operating on a limited budget or you're experiencing a boost in demand or a busy season, renting HVAC equipment is an ideal solution for accessing quality products at an economical price. Our HVAC rentals are also a smart way to try a piece of equipment before deciding to purchase it.
When you rent from us, you benefit from the quality of our products and services and extensive industry and local experience. Our flexible short- and long-term agreements ensure you only pay for equipment when you have a use for it and reduce the time, effort, and expense of servicing, storing, and transporting a larger fleet.
Additional reasons to choose MacAllister Rentals to support your HVAC business include:
Superior equipment for rent from leading manufacturers
A broad variety of models and options to choose from
Ability to scale up for more significant jobs
Convenient locations to serve you throughout the region
Fast turnaround times and available delivery
Ongoing service and around-the-clock emergency support
Get in Touch to Rent HVAC Equipment
From our well-organized and secure website to our knowledgeable and attentive staff, we strive to make the process of renting as easy and affordable as possible. If you need a portable generator, electric boom lift, or any other piece of equipment and machinery, find it at MacAllister Rentals. Give us a call or submit our online contact form to request a free quote and assistance placing an order.