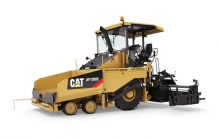 When you need to expand your fleet on a temporary basis or you're searching for an emergency replacement, renting equipment often provides the best value. MacAllister Rentals is a trusted and established equipment rental company offering a massive selection of road construction equipment and work tools across Indiana and Michigan.
At MacAllister Rentals, our core focus is on site support and compact equipment rentals. However, through our corporate family, we can meet your paving equipment needs through MacAllister Machinery in the Indiana region and Michigan CAT in Michigan region. Please visit the respective heavy rental groups today for more information.
Availability may vary by location – give us a call at (877) 700-1945 or contact us online for details.
Asphalt Paver Rentals
MacAllister Machinery and Michigan CAT carry an impressive selection of paving equipment for rent from leading manufacturers such as Caterpillar, Weiler and more. From cart path pavers and road wideners to compactors, shuttles and screeds, you'll find an array of options to ensure an efficient fit for your project. We carry track and wheeled asphalt paver rentals in a range of sizes and power ratings. Whether you're working on a small residential project or a large commercial or governmental job, we have you covered.
The machines in our rental inventory offer exceptional fuel efficiency for lower operating costs. When you rent paving equipment from us, you benefit from:
Low-hour, late-model machines designed to perform in the most rugged rental environments
Dependable and productive equipment expertly maintained by highly-trained technicians
Top-notch service and support throughout the rental process to ensure your 100 percent satisfaction
Easy-to-master operator controls and industry-leading comfort cabs and safety features
Why Rent Paving Equipment?
There are many advantages to partnering with an experienced source for your short- and long-term equipment requirements. We help businesses throughout our territory access premium-quality paving solutions while avoiding the capital expense of purchasing machines. When you rent an asphalt paver or any of our other products and tools, you only pay for the equipment you need when it's in use and can eliminate costs relating to storing and maintaining a larger fleet.
As a full-service source to rent paving equipment, we offer an extensive range of products and services in a single convenient place. Our experienced team will assist in analyzing your needs to recommend the supplemental equipment or accessories to help you improve productivity and results. Additional reasons to rent with us include:
Daily, weekly, monthly and longer-term rates
Available credit for qualified customers
Convenient locations throughout IN and MI
Operator training and ongoing technical support
Extensive product selection and availability
In-store pickup or delivery to your jobsite
Find the Paving Equipment for Rent You Need Today
We strive to make the process of renting equipment as quick, easy and affordable as possible. As one of the largest and most experienced companies in the region, we offer the selection, availability and value you need, always backed by the best customer service and support.
Depending on your job site location, visit MacAllister Machinery (Indiana) or Michigan CAT (Michigan) for more details on paving rentals and to find our closest location to you.