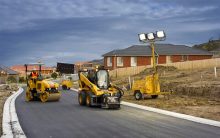 When you need to temporarily add a piece of equipment to your road construction and paving fleet, renting is often the most economical option. MacAllister Rentals specializes in providing full-service solutions that save your business time and help you remain competitive and profitable. Whether you're repairing state toll roads or building local and residential streets, our experienced team will help identify the equipment, machinery, and accessories that represent the most efficient fit.
Equipment Rentals for Road Construction and Paving
MacAllister Rentals carries a broad assortment of equipment for building and maintaining dirt, stone, asphalt, and concrete roads and streets. For each type of project and application, you'll find a variety of top-quality options within the product category. We provide equipment for maintenance and repairs, paving and repaving, resurfacing, snow removal and more. From widening highways to creating temporary paths at a construction site, there's a machine in our inventory suited to your applications.
As a division of the authorized Cat® dealer for Indiana and Michigan, we offer one of the most significant selections of machines that set the standard for durability, performance and efficiency. In addition to Cat dozers, graders, compactors/rollers, skid steers, and backhoes, we rent dump trucks, water trucks, sweepers and air compressors.
Our power system solutions also include generators and light towers for powering remote job sites and extending working hours and overnight shifts.
We also have asphalt pavers available through our Heavy Equipment Rental Division.
We offer:
Late model, low-hour machines ready to perform at peak productivity
Equipment featuring state-of-the-art technologies
Full range of work tools and attachments
Service and support from experts who understand your industry
The Advantages of Renting Road Work Equipment
When a piece of mission-critical equipment breaks down or you have a job that calls for a particular machine, renting often makes the most sense. A temporary solution eliminates the need to buy new while providing the versatility to handle bigger jobs and challenging applications. When you rent from us, you reduce maintenance and storage costs and have the option of swapping units based on your changing project specifications.
At MacAllister Rentals, we provide the ability to supplement your fleet with productive and reliable machines whenever it's required. We offer daily, weekly, and monthly rates and can also draw up a custom rental agreement for longer-term projects.
Additional reasons to partner with us for rental road construction and paving equipment include:
Competitive prices and free, no-obligation quotes
Rental locations across Indiana and Michigan
In-store pickup or direct delivery options
Operator and product training on request
Quality fleet maintained by factory-trained technicians
Unparalleled customer service
Technical capabilities of your local Cat dealer
Reserve Your Road Construction and Paving Equipment Rentals
Renting equipment has never been easier. Find the products you're looking for in our online rental listings or contact us for further assistance or to request a quote. We'll be happy to provide additional information on our current selection and help process your order today.