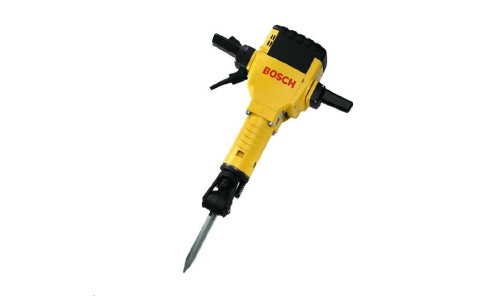 If you need to get a job done quickly and don't have the time or finances to buy all-new equipment, a demolition hammer rental from MacAllister Rentals might be right for you. We offer a variety of rental equipment options and perks. The jackhammers in our on-demand rental inventory can come with several options, including:
Hand-held units
Electric-powered units
60-pound units
An assortment of bits
Availability may vary by location – give us a call at (877) 700-1945 or contact us online for details.
What Is a Jackhammer or Demolition Hammer?
A jackhammer, also known as a pneumatic drill or demolition hammer, combines a hammer with a chisel. These tools can be used to break up pavement, concrete and rock in some of your largest, most intensive projects. The internal hammer is driven up and down, striking and then returning again and again to break away material. One crucial point to note is that the jackhammer is as effective as the force applied to the tool. They can be pneumatic, electromechanical, electro-pneumatic or hydraulic.
The different types of bits for demolition hammers, important for different jobs, include the following:
Point
Spade
Scrabbler
Flat tip
Bushing tool
Flex chisel
Stake driver
Should I Rent a Jackhammer?
Jackhammers have various applications that make this equipment some of the most essential to the construction industry. They take the place of manual tools of the past like pickaxes and sledgehammers, giving you the ability to get through asphalt, rock, concrete and other hard substrates quickly and precisely. You can prepare many sites with these tools at a much faster rate. It's even possible with the right strategy and equipment to complete both horizontal and overhead jackhammering to get through steep slopes, walls and more.
However, purchasing this equipment might not be the right move for your company if you don't foresee using it often or if you'd rather put maintenance in someone else's hands. While owning your own new equipment can be beneficial in several ways, you have to have the time and resources to make your purchase possible.
Instead of waiting, you can protect your bottom line and rent from MacAllister Rentals right away to immediately gain the productivity of a high-functioning, low-cost jackhammer rental.
How to Rent a Jackhammer
If you've realized your company needs a demolition hammer rental, you'll be happy to know that MacAllister Rentals provides several benefits in addition to our daily, weekly, monthly and longer-term rental contracts. You'll also gain access to:
A wide selection of well-maintained, low-hour and late-model older equipment
Convenient locations for equipment rentals throughout Michigan and Indiana, such as Kokomo, IN, Lansing, MI, and Midland, MI
High availability for on-demand rentals, user-friendly ordering and fast shipments
Unparalleled technical support, customer service and general product knowledge through 24/7 rental support
Makes and models from several leading manufacturers on the market
Once you know a jackhammer rental is right for your business, contact MacAllister Rentals for more information on our rental services.