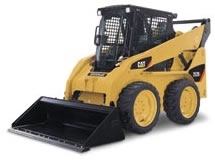 MacAllister Rentals offers the full line of high-quality Cat® skid steer loaders. With capacities all the way up to 2700 lbs, we've got the skid steer to help you get the job done. Choosing the high-quality rental skid loader best suited to your needs means you're not spending more money than necessary on an oversized machine, nor do you risk running into loads you can't handle. You can select the skid loader best suited for the job in terms of size and operating capacity.
For more details and pricing, call us at (877) 700-1945.
Our site provides you with all the basic information, and a link to the spec sheet for each model: (Click Here For Compact Track Loaders)
| Model | Net hp | Rated Operating Capacity (lb) | Width (in) | Length w/o Bucket (in) | Clearance at Max. Lift & Dump (in) |
| --- | --- | --- | --- | --- | --- |
| 226B | 57 | 1500 | 60 | 99.2 | 85.4 |
| 236B | 71 | 1750 | 66 | 110.2 | 94.4 |
| 246C | 73 | 2150 | 66 | 118.2 | 95.4 |
| 256 (High Flow) | 82 | 2350 | 66 | 117.2 | 95.5 |
| 252B | 71 | 2500 | 72 | 114.3 | 95.3 |
| 262B | 78 | 2700 | 72 | 114.3 | 95.3 |
Availability may vary by location – give us a call at (877) 700-1945 or contact us online for details.
Machine specs can vary from model year to model year. Consult the serial plate and/or operators & safety manual for accurate machine specs.
Operating in a tight space or need an electric skid loader? View mini skid loaders.
Rent the Steer Skid Loaders to Get the Job Done
Unless you use a skid steer loader on a regular basis, the cost of investment and maintenance can be prohibitive. Tying up significant cash in heavy-duty equipment that isn't working every day makes it hard to get a return on your investment. At MacAllister Rentals, we want to help cover your occasional heavy duty skid loader needs and give you the flexibility to choose the right machine for the job at hand. There are many great advantages to finding a skid steer loader to rent in Indiana instead of owning it, such as:
For occasional use, there's simply no way to justify the cost of ownership. When you rent for individual jobs, you're sure to cover your costs, instead of paying for an idle machine.
We take care of all of the maintenance, upgrades and verifications for our machines in IN. You rent a skid steer loader that is ready to use every time and then call us if there are any problems.
You have access to a range of sizes, from compact models that fit in small yards and lanes up to heavy-duty models that can handle 2700 lbs, giving you maximum flexibility.
If your schedule changes, we do our best to accommodate you. Our large selection of skid loaders for rent at our many locations means we can offer you access to more equipment than smaller outfits.
We offer great service and support, from the moment you inquire about a skid steer loader rental from us until you've handed back the keys, because we want you to become a regular customer.
As you can see, choosing to rent a heavy-duty skid loader from MacAllister Rentals in Indiana gives your business a real advantage. It isn't necessary to tie yourself to one pricey machine when you can have the flexibility and trouble-free solution that renting provides.
Choose the Perfect Model of Steer Skid Loader for Rent
Once you know what type of excavation project you have ahead of you, it's time to pick your tools. At MacAllister Rentals, we have built a lineup of heavy-duty construction equipment that covers all your bases. Our Cat skid steer loaders range from a rated operating capacity of 1500 lbs all the way up to 2700 lbs.
Finding Heavy-Lifting Skid Loaders for Rent
Once you have decided which heavy-duty skid steer loader you'd like to rent, or if you require any help deciding, it's time to contact us. Either fill in our handy online contact form or give us a call. Our expert staff will answer any questions you might have and give you information on equipment availability. With multiple locations in Michigan and Indiana, such as Lafayette, IN, Macomb, MI, and Vincennes, IN, we'll do what we can to make your desired skid steer loader available when and where you need it.
Find out why MacAllister Rentals has become one of the leading heavy-duty construction equipment rental companies in the regions we service. We pride ourselves on our great reputation and satisfied customers, and will work hard to give your business the value and flexibility it needs. Start planning your next big job and let us take care of providing the necessary big equipment.
Investing in and maintaining vehicles and equipment is an unnecessary expense, especially when you only need to use them occasionally. Don't tie your cash flow up in heavy-duty construction equipment that is sitting idle most of the time. Instead, come to one of the leading big equipment rental companies in Indiana and Michigan.
Contact us online or call us at (877) 700-1945 for your free quote.