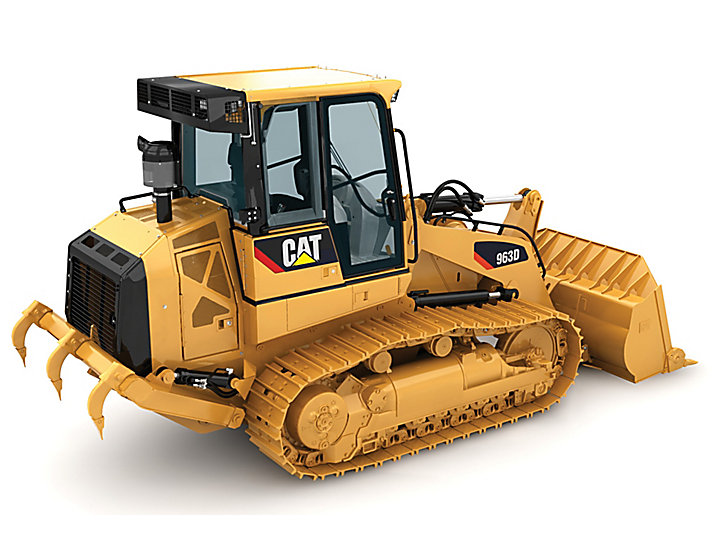 Found in job sites around the world, Cat® track loaders are recognized workhorses with a reputation for performance, productivity and industry-leading uptime. If you need to rent a Cat track loader, contact MacAllister Rentals first. As the region's exclusive Cat equipment dealer, we have one of the largest fleets of low-hour, well-maintained machines available to rent in Indiana and Michigan.
Standard Track Loaders
| Model | Flywheel Power | Weight | Capacity |
| --- | --- | --- | --- |
| 939C Hystat | 90 hp | 20908 lb | 1.5 yd3 |
| 953D | 148 hp | 34381 lb | 2.42 yd3 |
Availability may vary by location – give us a call at (877) 700-1945 or contact us online for details.
Machine specs can vary from model year to model year. Consult the serial plate and/or operators & safety manual for accurate machine specs.
Looking for other types of loaders? Browse Compact Track Loaders or Wheel Loaders.
Our Rental Fleet
MacAllister Rentals has two models of Cat track loader available for rent:
939C Hystat: The Cat 939C Hystat track loader features 90 horsepower of flywheel power and a 1.5 yd3 bucket capacity. An excellent track loader for light-to-medium-duty applications, it boasts a powerful, six-cylinder closed loop hydrostatic powertrain, efficient, low-effort joystick controls and a rugged undercarriage designed to provide stability in any terrain. Choose the 939C for earthmoving, construction, material handling and a wide range of other potential applications.
953D: The Cat 953D delivers 148 horsepower of flywheel power thanks to a powerful, fuel-efficient ACERT™ diesel engine. A 2.42 yd3 bucket provides additional lifting capacity, while an extensive selection of available work tools further adds to the machine's versatility. Key features include an ergonomic operator station engineered for all-day comfort and the exclusive SystemOne™ undercarriage that keeps downtime to a minimum, even when working in rough conditions.
You can find detailed equipment specifications by following the links on this page, or by contacting a MacAllister Rentals representative near you. Your rental unit can be customized with different attachments and other optional features — let a team member assess the requirements of your job and put together a package containing everything you need.
Why Renting Is the Smart Choice for Your Fleet
Whatever industry you're in, a large part of your success will rest on your ability to find economical equipment solutions that help you get the job done in an efficient manner. Renting is an excellent alternative to buying outright if:
You have a short-term or one-off job where additional equipment is necessary
One of your current machines is down for service or repairs, and you need to continue operating at full capacity
You have a job in a remote location and want to save transportation costs
You want to avoid incurring maintenance or wear on your own equipment
You are considering purchasing a new track loader and want to see the quality of Cat equipment in action before making a decision
You want to free up credit that would otherwise be tied up in an equipment lease
To meet the needs of a wider range of clients, MacAllister Rentals lets you rent a Cat track loader by the day, the week or the month. Discounts are available for longer commitments.
Service and Support
Even if you only need to rent a track loader for a day, it's important to choose a rental company that stands behind their equipment. The MacAllister Rentals team is available around-the-clock to respond to all your needs, whether it's a simple question or an emergency repair. We also have a fleet of field service trucks ready to be dispatched to job sites throughout Indiana and Michigan. In the rare event that there's a problem with your rental, we'll send an experienced technician who can get you back up and running as quickly as possible.
Contact MacAllister Rentals Today
For the convenience of clients throughout Indiana and Michigan, MacAllister Rentals has an extensive network comprising locations in Bloomington, Indianapolis, Fort Wayne, Lansing, Niles and beyond. Our knowledgeable staff are available to answer any of your questions related to renting a mini track loader or other piece of equipment.
Request a quote using the form on this page or, better yet, get in touch directly with one of our rental representatives. Call or email a location near you to get started today.