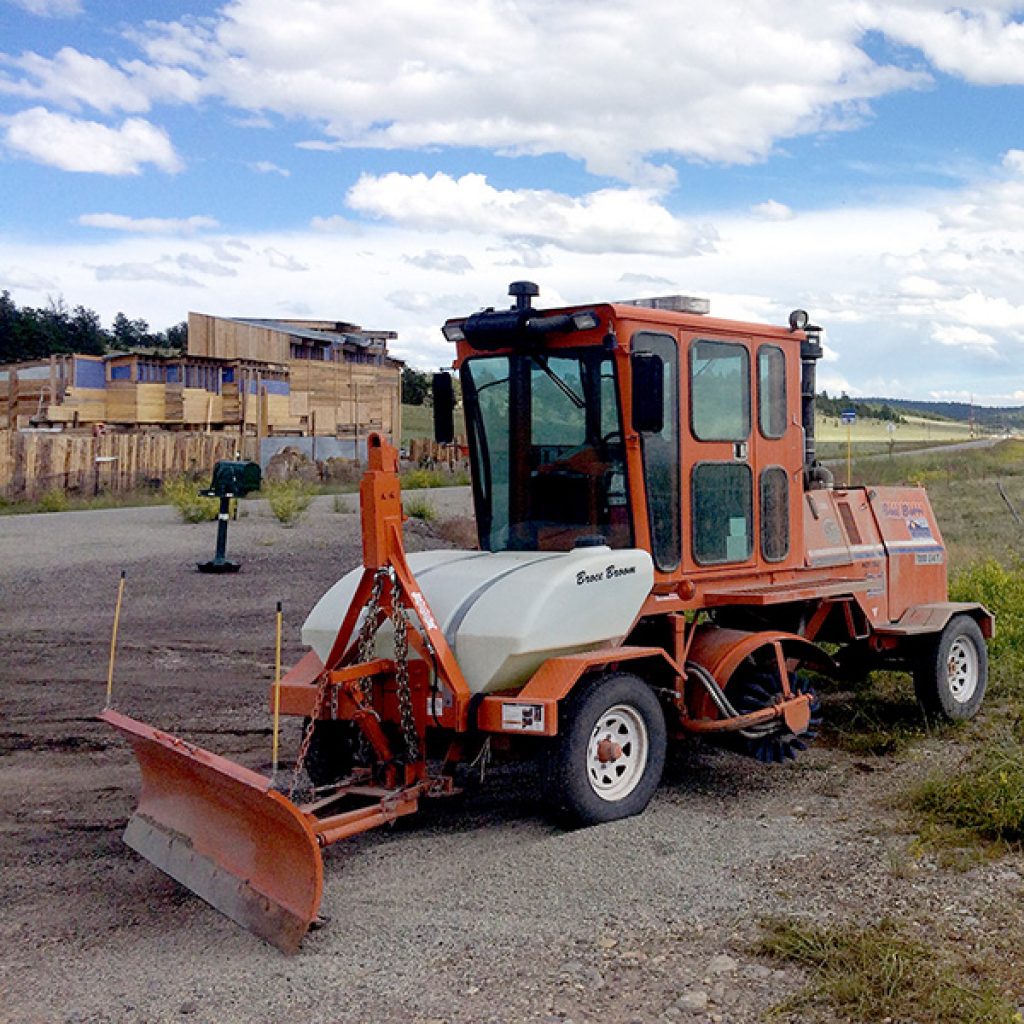 MacAllister Rentals is your one-stop headquarters for equipment rentals in Indiana and Michigan. Our rental options allow you to keep up with your project demands without having to make a long-term investment. MacAllister's inventory includes a wide selection of top-quality sweepers for rent that provide a reliable, cost-effective alternative for keeping streets, roadways and parking lots clean and free of debris. Choosing MacAllister Rentals means you'll experience the unparalleled service that has been the hallmark of our company for more than 70 years.
| Brand | Model | Wheels | Towable | Cab Style | Broom Style | Water Tank | Blade Option |
| --- | --- | --- | --- | --- | --- | --- | --- |
| Broce Broom | 350 | 4 | Yes | Enclosed | 8′ Angled Broom | 150 Gallon | Yes |
| Lay-Mor | 300 | 3 | Yes | Open | 8′ Angled Broom | 80 Gallon | No |
Availability may vary by location – give us a call at (877) 700-1945 or contact us online for details.
Machine specs can vary from model year to model year. Consult the serial plate and/or operators & safety manual for accurate machine specs.
A Variety of Construction Sweepers for Rent
MacAllister Rentals has several types of sweepers. We carry Broce and Roscoe brooms, which are enclosed units with an 8' angle broom and 150-gallon watering system. Some sweepers are also available with blades to move large objects out of the way.
Broce Manufacturing has been a producing dependable, hard-working construction and road sweepers since 1963. As a proud Broce Manufacturing dealer, MacAllister can provide an innovative sweeper that can accommodate any road, milling or surface treatment job with ease. A Broce road sweeper rental includes the latest technological innovations that will make your short-term projects go as smoothly and seamlessly as possible. Our Broce street sweeper rental selection features the legendary 350. The original broom sweeper in the Broce lineup, the 350 is the perfect choice for more demanding construction and road maintenance projects.
Learn more about the Broce Broom 350 Sweeper
Our options also include products from Lay-Mor, a leading provider of sweeping machines for the rental and paving industries. Our Lay-Mor Sweepers are towable 3-wheel units which are open cab with an 8' angle broom. Designed with the operator in mind, Lay-Mor sweepers also enable towing without having to raise the front wheel off the ground, making it easy to transport from one job site to another. The 80-gallon sprinkler system can meet the requirements of most roadway watering projects. Available options include variable broom speed that provides maximum operator flexibility and efficient dual-broom drive motors for additional sweeping capacity.
Learn more about Lay-Mor Sweepmaster 300
When Should You Consider a Road Sweeper Rental?
Renting a sweeper can provide a cost-effective alternative to purchasing a new machine if you only need it for short-term or temporary projects or to replace a sweeper that is in the shop for repairs. If you operate a municipality and are ready for "spring cleaning," it may make sense to rent a sweeper instead of buying. A street sweeper rental also provides an affordable solution for removing trash and debris from an open area after an event.
If you are in charge of highway construction projects, a road sweeper rental can remove various types of heavy debris such as broken pavement, concrete millings and asphalt. You can also use a sweeper to keep surfaces at building sites clear for the duration of the project. Your knowledgeable MacAllister Rentals representative can help you choose the right sweeper for your applications and budget. If you don't see the exact sweeper you're looking for, just let us know — we'll be happy to locate it for you.
MacAllister Makes Your Sweeper Rental Easy
We've designed our rental process to get you out the door and on your way as quickly as possible. And with convenient MacAllister Rentals locations throughout Indiana and Michigan, such as Muncie, IN, Wixom, MI, and Terre Haute, IN, we're always nearby to serve your needs. If you're ready to rent a sweeper, just give us a call. You can also request product and pricing information by filling out and submitting our online contact form.