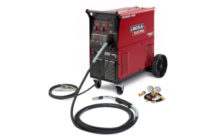 When you're in the market for high-quality rental equipment from a local, reliable source, MacAllister Rentals provides a variety of solutions for businesses and industries throughout Indiana and Michigan. We carry a broad range of options for welder rentals in addition to our extensive inventory of compact and heavy-duty construction equipment. Our experienced team will help you find the products you need and get it to you fast to maximize productivity.
Availability may vary by location – give us a call at (877) 700-1945 or contact us online for details.
Portable and Towable Welder Rentals
From construction sites and agriculture to fabrication, maintenance and repair applications, a portable welder rental is an operational advantage. They're an ideal solution for working at a remote location where there is no reliable source of electricity or in jobs that benefit from increased mobility. These towable and portable welders are capable of handling all different field welding tasks in addition to powering lights, appliances, tools and motors.
Within our inventory, you'll find portable 225-Amp gas and propane welders for indoor and outdoor use. Our towable welder rentals include diesel models from 200 to 500 Amps that are trailer-mounted for portability. Additional features and benefits include:
Compact, lightweight design that takes up less storage space and is easier to move and position around your work site.
Rugged welder/generator construction capable of standing up to your most challenging rental applications and environments.
Easy to use controls, quiet operation and overload protection for improved safety and productivity.
Why Rent a Welder?
A towable or portable welder rental makes good sense for all different sizes and types of business looking to operate more efficiently. Whether you work in residential construction, facility maintenance and management or many other industries, renting provide the versatility to take on more work and a broad range of applications. You benefit from access to late-model, low-hour equipment on a temporary basis and the ability to swap out units based on your changing requirements.
Our welder rentals are available by the day, week, month or even longer-term and backed by ongoing customer service and emergency technical support. Common reasons to rent include:
When you have a short-term job or are responding to an emergency situation.
If you're operating on a temporarily limited spending budget.
When you're interested in trying a particular welder unit before buying it.
To avoid the expenses of servicing, maintaining and storing tools and equipment.
Your Convenient Source for Welder Rentals
MacAllister Rentals focuses on making the process of renting equipment fast, easy and affordable. We offer secure online shopping and convenient locations throughout the region. From competitive prices and affordable financing to expert product guidance and unmatched dealer support, we're the one-stop shop for all your needs.
When you need to rent a portable welder or any of our other temporary equipment solutions, find our location in your area and get in touch with us today. Contact us online, give us a call at (877) 700-1945 or stop by the rental store in your area to speak with a member of our dedicated team.