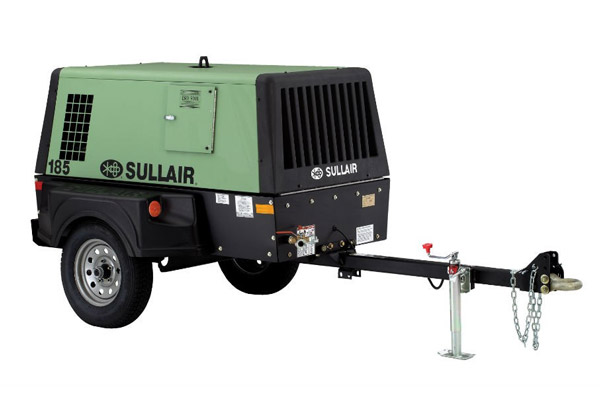 Are you looking for a reliable air compressor for a temporary job site? Do you need to add a few air compressors to accommodate an unexpected spike in business? Do you need a portable air compressor you can move from one worksite to another with ease? These are just a few of the many situations where an air compressor rental makes good sense for your company. If you're in Michigan or Indiana, MacAllister Rentals offers top-quality air compressors for rent at competitive rates.
Below are basic specs on our towable units that can be easily equipped with the wide variety of air hammers and other tools we also have available for rent.
Model
Deliver at
Rated Pressure
Pressure Range
Weight
Axles
185
185 CFM
80-125 PSI
2,130 lbs
Single
375
375 CFM
80-125 PSI
4,440 lbs
Single
750
750 CFM
80-125 PSI
10,045 lbs
Tandem
1600
1600 CFM
80-125 PSI
16,260 lbs
Tri-Axle
Availability may vary by location – give us a call at (877) 700-1945 or contact us online for details.
Machine specs can vary from model year to model year. Consult the serial plate and/or operators & safety manual for accurate machine specs.
You'll Find a Wide Variety of Air Compressors for Rent
MacAllister Rentals' inventory of air compressor rentals can meet all of your compressed air needs whether they're big or small. We feature portable air compressors from Sullair. Founded locally in Michigan City, IN more than 50 years ago, Sullair is now a global solutions provider that remains at the forefront of air compressor innovation. Sullair was a pioneer in the development of air compressor rotary screw technology and also contributed to the development of long-lasting compressor fluids. As an ISO 9001-certified company, Sullair compressors meet the highest standards for quality and dependability.
Our air compressors are available in a variety of sizes that offer several different air pressure delivery rates. We feature air compressors from an 8-gallon electric model all the way up to industrial 1600 CFM units. A smaller air compressor rental unit includes a lightweight, compact design that facilitates towing with a lighter vehicle. The clamshell canopy contains gas-assisted springs, enabling it to open fully for easy serviceability. You will also get the benefit of a quiet operation, making the compressor suitable for work environments where noise reduction is essential. Our larger air compressors for rent include a heavy-duty frame that can ensure maximum stability when traversing rough, uneven terrain.
The towable nature of our air compressors makes them easy to transport to various job sites. The larger air compressor units feature multiple mounting options, giving you maximum flexibility to tow the unit with different types of vehicles. Additionally, each has a long operating life due to their durable powder coat finish that ensures that they stand up to harsh weather conditions.
When Does It Make Sense to Rent an Air Compressor?
Portable air compressor rentals have numerous industrial applications. Known as the "workhorse" of the construction industry, an air compressor will power tools and equipment at everything from roadwork and highway build sites to residential and commercial housing projects. You can also rent an air compressor for a special project at your manufacturing facility, such as when performing renovations that may take several weeks or months to complete.
An air compressor rental can also provide a more practical, cost-effective alternative to purchasing in some situations. Examples include if you only need to rent an air compressor on an occasional basis, don't have the space to store additional machinery, need to replace a unit that is temporarily out of service or want to test out a model before making a purchasing commitment. Also, renting a larger air compressor can provide the ideal solution if your existing equipment does not have the capacity to meet requirements of a more demanding project.
MacAllister Rentals Makes It Easy to Rent an Air Compressor
At MacAllister Rentals, we understand that time is money. Our goal is to help you rent an air compressor as quickly and efficiently as possible. We also offer flexible rental terms — you can rent an air compressor for a day, week, month or longer. If you are unsure of which size and air output that you need for your project, the experienced staff at MacAllister Rentals will be able to assist you in choosing the right air compressor rental that will meet your specific needs. Find a location near you or visit some of our location pages such as, Brownstown Twp., MI, Columbus, IN, Traverse City, MI.
Contact MacAllister Rentals to learn more about the advantages of renting a portable air compressor or get a free quote today.