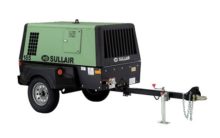 An air compressor is an invaluable piece of equipment for operating air-powered tools at a remote job site. If you're looking to rent a high-quality air compressor in Indiana or Michigan, look no further than the nearest MacAllister Rentals store. We're the one-stop headquarters for affordable Sullair air compressor rental units in a variety of sizes and configurations. You'll also experience exceptional service and support every step of the way.
About Sullair Air Compressors
Founded in Michigan City, IN, in 1965, Sullair has been at the forefront of air compressor design and innovation for more than 50 years. Sullair was a pioneer in the development of the rotary screw technology that has become an industry standard. Their dependability has also made Sullair compressors a leading choice of companies all over the world. Sullair continues to focus its operations on reliability, durability and performance.
MacAllister Rentals Has the Right Sullair Air Compressor Rental for Your Project
Your local MacAllister Rentals store carries Sullair air compressors in a variety of sizes and pressure ranges to meet your unique job site requirements.
These towable units offer the advantage of portability — you can transport them to, from, and around your work areas with ease. The compact design and variety of mounting options allow you to tow the compressor with different types of vehicles. The quiet operation also enables you to use the air compressor in areas where noise must be kept as low as possible.
MacAllister Rentals Makes it Easy to Rent an Air Compressor
At MacAllister Rentals, we understand that companies must often rent equipment on short notice to meet project demands. Our knowledgeable rental team will assist you in choosing the right machine for your applications and budget. We'll also work with you to create a flexible rental agreement that works for your company — whether you're looking to rent an air compressor for a day, week, month or longer. You'll always get a dependable unit that's in peak operating condition and ready to perform at your job site.
We're Also Your Home for a Brand-New Sullair Air Compressor
If you're looking to own rather than rent, we encourage you to check out our line of new Sullair products. You'll get the benefit of many years of reliable service combined with the latest innovations that set Sullair apart from the rest.
Used Sullair Products Offer a Cost-Effective Alternative
You don't have to invest in a brand-new machine to enjoy the benefits of a Sullair air compressor. Our extensive selection of top-quality used equipment can also include Sullair models that allow you to cut costs without sacrificing performance.
Contact Us to Learn More About Sullair Rental Equipment
Whether you want to rent an air compressor right now, or you are planning for future projects, we'll be happy to provide additional information regarding our Sullair rental equipment lineup. Give us a call at 877-700-1945 to request a quote today. You can also stop by the MacAllister Rentals location near you or contact us online.