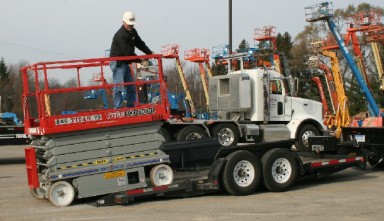 The need may arise to move materials, equipment or machinery from one location or job site to another on a one-time or short-term basis. Rather than investing in a brand-new or used trailer to haul your items, a trailer rental from MacAllister Rentals can provide a more convenient, cost-effective solution. We offer a wide variety of trailer rental options to companies throughout Michigan and Indiana, along with the legendary MacAllister service that ensures the best customer experience.
For more details and pricing, call us at (877) 700-1945.
Our trailer rentals include:
NoRamp Tilt Trailers – with payloads up to 10,000 lbs.  (all with hydraulic/electric assisted tilt)
Dump Trailers – with payloads up to 14,000 lbs. and lengths ups to 14′
Trailer availability varies by location – call us today at (877) 700-1945 for details on trailer rentals.
Choose From Many Different Trailer Types
MacAllister Rentals offers NoRamp Tilt Trailers ranging from 1,500 lbs. payload to 10,000 lbs payload, all with hydraulic/electric assisted tilt. Our NoRamp tilt trailer rentals enable fast, efficient loading and unloading whether a tow vehicle is attached or unattached, saving you time and labor. The ground-level angle also reduces the risk of damage to your equipment and helps your workers avoid injuries. The built-in locking mechanism provides additional load safety.
Besides the varying payloads, our NoRamp trailer rentals come with numerous standard features that ensure peak performance and maximum ease of use. The hydraulically powered lifting device makes raising and lowering the trailer an exercise in efficiency. The LED lighting conserves energy without limiting nighttime visibility. The various hitch sizes, which include gooseneck and pintle, makes it easy to match the trailer rental to your towing vehicle. You can also select from several trailer surface areas to accommodate loads of just about any size. All trailers include a standard torsion axle for a smooth, safe ride on bumpy or uneven surfaces.
When Does a Trailer Rental Make Sense for Your Company?

Renting a trailer from MacAllister Rentals can serve you well in many applications. A construction trailer rental can provide a viable solution if you need to move tools, supplies and building products to a new job site, but you don't have your own trailer (or fleet of trailers) to handle the task. If you are looking to move a large piece of equipment or heavy machinery to a new location, we supply you with a rugged, safe equipment trailer rental that is up to the challenge.
Perhaps you're considering purchasing a trailer for your business but aren't quite sure whether you want to make the financial commitment. A tilt trailer rental from MacAllister Rentals gives you the opportunity to "try before you buy." Renting can also be a smart move if you have limited storage space at your facility. Regardless of your reason for renting a trailer, our friendly, knowledgeable rental staff can help you explore your options so you can select the right product at a competitive rate.
You'll Enjoy a Convenient, Hassle-Free Trailer Rental Experience
At MacAllister Rentals, we understand that you probably need to rent a trailer as quickly as possible. Our streamlined renting process will save you time and aggravation, helping you to keep your projects on schedule. To learn more about your trailer rental options in Indiana and Michigan, give us a call today. You can also request product and pricing information online by calling us at (877) 700-1945 or submitting our convenient contact form. We'll respond to your inquiry as quickly as possible.