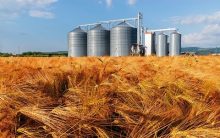 If you own a farm or ranch, whether commercial or personal, at some point you'll need a piece of equipment you don't have. When purchasing a new or used machine isn't the best option, renting agricultural equipment from a reliable, local source is a cost-effective alternative.
At MacAllister Rentals, we carry a wide range of compact equipment commonly used in agricultural settings. Whether you're looking for machines with attachments for stacking pallets and bales of hay, or a solution for digging trenches and laying water and utility pipes, we have farm equipment rentals suited to your applications.
We offer an extensive inventory of small agricultural machines for rent manufactured by Cat® and other leading brands. Our selection of equipment rentals includes:
We also carry a variety of attachments that can be attached to equipment and small tractors including:
Augers
Brooms
Buckets
Brush Hogs
Forks
Grader Boxes
Landscape Rakes
Overseeders
Rock Hounds
Stump Grinders
Tillers
Rental Equipment for the Agricultural Industry
Utilizing heavy equipment and machinery to maximize productivity is critical for success in agriculture and farming. At MacAllister Rentals, we maintain a diverse fleet of small and compact machines capable of delivering exceptional performance while working in the toughest conditions. Our powerful dozers, excavators and compact track loaders are perfect for clearing and preparing fields. Versatile telehandlers and skid and wheel loaders are a great fit for transporting produce and materials. Whatever is needed for your job, we have you covered.
When you rent from us, you gain access to a comprehensive inventory of equipment, work tools and attachments for the flexibility to tackle virtually any job. In addition to our options in earthmoving machines, we also rent trenchers, trailers, water trucks, HydroSeeders, straw blowers and a variety of site-support tools. From pallet jacks and pressure washers to welders and personnel carriers, we're your one-stop shop for rental equipment for agriculture.
Looking to rent tractors, combines or agriculture implements? Our Ag division is happy to help at www.macallisterag.com. You'll find an array of options in stock from Challenger, Lexion, Gleaner, Caterpillar®, Ag-Chem, Sunflower, White Planter, AGCO Advanced Technology Solutions, MacDon, AgLeader, Trimble, and J&M.
The Advantages of Renting Farm Equipment From MacAllister Rentals
Our rental equipment helps businesses of all sizes control costs and gain the flexibility to take on larger jobs and a broader range of applications. Whether you have a short-term or one-time task, are looking for ways to reduce operating expenses, or need an emergency replacement for a damaged machine, temporary solutions are an efficient and affordable option. Renting agriculture equipment is also an excellent way to see how a model performs on the job before deciding to buy it.
MacAllister Rentals provides many different rental options to meet your specifications and fit your budget. We offer daily, weekly, monthly and longer-term custom rates based on your changing projects and seasonal requirements. You're able to access low-hour, well-maintained machines featuring the latest technologies while reducing costs relating to servicing and storing a larger fleet.
Additional reasons to partner with us for rental equipment for agriculture include:
Experienced staff offering unparalleled customer service
Expansive inventory of Cat and Allied equipment and attachments
Exceptional inventory and product availability
Multiple rental stores serving customers throughout Indiana and Michigan
Reserve Your Farm Equipment Rentals Today
Browse our equipment selection online to identify the models, tools and attachments you're looking for, or visit www.macallisterag.com for a complete range of purpose-built rental equipment for agriculture and farming.
For more information and to request a free quote, give us a call, contact us online or find the MacAllister Rentals location in your area. Our knowledgeable team will be happy to answer all your questions and assist with reserving the rental equipment you require.