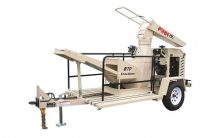 MacAllister Rentals has the right straw blowers and seeding equipment for you. Our fleet features FiNN® straw blowers, including the skid-mounted B40 and the trailer-mounted B70.
Since 1935, FiNN straw blowers have been leading the industry in productivity and performance. When you combine a FiNN machine with great service from MacAllister Rentals, you get the power you need to take on any job, at a price that works for your budget.
For more details and pricing, call us at (877) 700-1945.
| Brand | Model | Capacity | Blower | Range | Feed | Style |
| --- | --- | --- | --- | --- | --- | --- |
| FiNN | B40 | 4 Tons/Hour | 17″ w/6 blades | Up to 45′ | Manual | Skid Mounted |
| FiNN | B70 | 7 Tons/Hour | 21″ w/6 blades | Up to 60′ | Manual | Trailer Mounted |
Availability may vary by location – give us a call at (877) 700-1945 or contact us online for details.
Straw Blower Rentals
FiNN straw blowers provide efficient straw shredding and discharge. A single machine can mulch high volumes of product, ensuring moisture retention and preventing soil erosion on busy jobsites.
By choosing FiNN, you'll save time and money while enjoying more uniform coverage and a professional appearance for your finished project.
Engineering innovations only available on FiNN straw blowers include:
A balanced discharged chute that can be controlled with one hand, reducing operator fatigue.
A unique clutch design that permits independent control of the blower unit for more precise operation.
A flail chain system that separates the straw into uniform strand lengths for a more stable seed matrix.
FiNN designs its straw blowers from the ground up to be easy to use, reliable and versatile. They are the perfect choice for any long- or short-term rental application.
Applications and Benefits
FiNN straw blowers play a role in several industries, including landscaping, agriculture, pipeline and underground utilities. The two models available from MacAllister Rentals provide performance on jobs both big and small:
B40: The B40 straw blower can shred a full bale of straw in less than a minute. Its capacity and range make it ideal for residential gardens and lawns. Its compact footprint delivers superior maneuverability in tight spaces.
B70: With a larger blower unit, the B70 boasts a capacity of up to 7 tons per hour and a 60-foot overall range. Use it on commercial jobsites such as highway construction areas and agricultural fields, or for larger lawns and gardens that require both speed and accuracy.
Whatever the task, you can count on a FiNN straw blower rental from MacAllister Rentals to get the job done.
Our variety of accessories further expand the versatility of our rentals. Let a team member help you put together a complete turnkey package for any project.
Want to learn more about the benefits and potential applications for a FiNN straw blower rental? Check out the video below and get in touch for more information.
Rent a Straw Blower From MacAllister Rentals
We offer well-maintained, low-hour rental units and accessories. Daily, monthly and weekly rates provide flexible options to meet your unique needs.
Delivery, on-site maintenance and training are also available. With many locations across Michigan and Indiana, we're a convenient choice for contractors throughout the region.
To get started, use the form on this page to request a quote or call us at (877) 700-1945 for a straw blower rental.