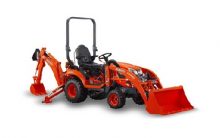 MacAllister Rentals is your reliable source for durable and efficient Kubota equipment to meet your short- or long-term requirements. We offer an extensive selection of utility task vehicles (UTVs) and compact tractors capable of helping you increase productivity and lower operating costs in a variety of outdoor applications and environments. Whether you're in landscaping, agriculture, construction or many other industries, you'll find the Kubota rental equipment you need at one of our convenient Indiana and Michigan locations.
Kubota has been producing hardworking power equipment since 1969, and continues to raise the standard for quality and reliability in the industry today. When you choose a Kubota UTV rental or tractor rental, you can rest assured you're getting a machine built to get the job done right.
Our Lineup of Kubota Rental Equipment
As a leading Kubota dealer for the region, our rental fleet includes the latest models of UTV and compact tractors the brand manufactures. These innovative machines offer the versatility to handle multiple tasks with power and precision. Units are easy to use and feature technology to help operators get more done in less time.
Choose from the following types of equipment:
Kubota Tractor Rentals: Kubota compact tractors are capable of everything from nursery work and residential landscaping projects to light construction and agriculture. Our L Series tractors are nimble enough to go where other larger machines can't and offer increased comfort and efficiency. Models feature diesel engines and are available as two-wheel drive and four-wheel drive units.
Kubota Generator Rentals: Kubota generators provide versatile and reliable temporary power solutions. We carry Kubota generators capable of up to 25 kW for light power needs on residential and commercial construction sites.
Kubota UTV Rentals: Kubota utility vehicles offer standard-setting durability and reliability working in virtually any kind of terrain or underfoot conditions. We provide a range of options in Kubota UTV rentals, including the RTV400 and RVT500 compact models, as well as the powerful RTV900 and RTV1140 diesel-engine machines. Whether you need a solution for transporting tools and people or an all-around workhorse with the strength to tackle demanding applications, we have the UTVs you require.
Renting Kubota Equipment
When you need to access quality equipment on a temporary basis, MacAllister Rentals has you covered. We offer flexible daily, weekly, monthly and longer-term rates, so you only pay for the machines you need when you have a use for them. Our experienced team will help you find the Kubota generator, tractor or UTV rental you require and get it to you fast to maximize uptime and profitability.
Your Comprehensive Source for New and Used Kubota Equipment
As a full-service Kubota dealer, we're also a leading source for equipment sales throughout our territory. We carry the new line of Kubota machines, including tractors, RTVs and mowers in a variety of model sizes and optional features. Our cost-effective used inventory includes a broad range of well-maintained equipment that's been carefully inspected for quality by our experienced technicians.
Whether you need to supplement your fleet during a busy season or have a short-term job that calls for a specific model of tractor or UTV, MacAllister Rentals has you covered. Contact us for more information on Kubota rental equipment and to request a free quote.