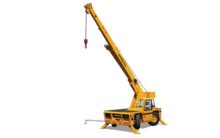 Broderson Carry Deck Cranes provide the ideal lifting solution when working in tight spaces. Their versatility and compact, low-profile designs make it easy to maneuver in confined areas where overhead obstacles pose a challenge.
MacAllister Rentals is your authorized Broderson equipment dealer serving Indiana and Michigan. We can provide your company with an affordable Broderson crane rental that's perfect for your temporary material handling tasks. Besides getting a high-quality crane, you'll also experience the legendary customer service that's been a MacAllister Machinery hallmark since 1945.
About Broderson Cranes
Founded by Dean Broderson in 1973, the Broderson Manufacturing Corp. produces industry-best cranes and lifting equipment that are the top choice in industries such as oil refining, chemical manufacturing, pulp and paper, and auto manufacturing. Broderson cranes are known for their quality, simplicity and reliability. All Broderson employees remain committed to fulfilling Dean's vision of designing and building cranes that exceed the expectations all types of customers.
We Offer Multiple Broderson Crane Rental Options
Broderson carry deck cranes come in a variety of sizes and capacities. The team at MacAllister Rentals can help you find the best equipment option for your specific job. Our inventory includes late-model, low-hour units equipped with many innovative features that make lifting and material handling jobs faster, more efficient and safer than ever. Some models also provide access to optional equipment that allows you to customize the crane to your applications.
We're a Professional Rental Company With Decades of Experience
When you choose MacAllister Rentals as your Broderson rental equipment source, you'll always get a top-quality carry deck crane that's in peak operating condition and ready to work at your facility or job site. We perform preventive maintenance checks between rentals to ensure the reliability of our equipment.
You'll also have the flexibility to rent for a day, a week, a month, or longer — we'll work with you to create a cost-effective plan that works for your company. And you'll appreciate our simple ordering process and fast delivery to your job site.
We Also Offer New Broderson Cranes for Sale
If you're looking for a more permanent solution than a Broderson crane rental, you can purchase a brand-new Broderson crane from MacAllister Machinery. A new crane gives your operators access to the latest, most innovative features on the market.
Save Money by Purchasing a Used Crane
If you would like to own a Broderson crane but don't want to invest in brand-new equipment, a dependable used machine can provide a more cost-effective alternative. We offer high-quality pre-owned cranes at competitive prices. Take a moment to explore our current inventory. We are always bringing in more used equipment for sale, so check back often to see the latest additions to our fleet.
Contact Us for Your Next Broderson Crane Rental
Learn more about the complete line of Broderson equipment rental solutions available from MacAllister Rentals. Give us a call at (877) 700-1945 or stop by one of our convenient Indiana and Michigan locations today. And feel free to contact us online at your convenience.