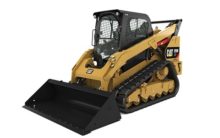 Professionals around the world trust Cat equipment. Cat's compact and heavy construction machinery delivers power and productivity in any job. A Cat dozer, loader or excavator is an excellent addition to any fleet.
MacAllister Rentals is an authorized Cat dealer serving Indiana and Michigan. In addition to new equipment sales, we also have cost-effective rental options.
Our fleet includes some of the newest and most advanced Cat equipment on the market. You'll also benefit from our factory-trained technicians and expert service.
Our Cat Rental Fleet
Our rental fleet contains low-hour machines. All units receive regular preventative maintenance to ensure they stay working their best throughout the rental period.
Available Cat rental equipment includes:
We regularly add new units to offer options for every unique project. Follow the links on this page for detailed specifications and more information.
Rent Attachments and Work Tools
On their own, Cat machines offer industry-leading features and performance. Optional attachments and work tools expand the possibilities even further.
With the right attachments, you can take on more jobs with greater efficiency. Switching work tools is fast and easy — and lets a single machine do the work of many. You'll save time and money on transportation, training and rental fees.
We offer a selection of work tools to rent alongside our Cat construction equipment. Our inventory includes heavy-duty buckets, grapple buckets, angle blades, stump grinders, trenchers, augers and more. Contact a MacAllister Rentals representative to learn more.
Who We Serve
Our clients include any business in Michigan or Indiana that needs to rent Cat equipment. MacAllister Rentals has a long history of providing Cat equipment rentals to the following industries:
Cat equipment excels in these and other applications where maintaining the bottom line is essential. Cat machines are fuel-efficient and powerful. They are also easy to operate and train new staff on — critical when adding a rental unit to your fleet.
Why Rent?
Renting from MacAllister Rentals gives you equipment you can trust without the long-term commitment of buying outright. We stand behind our rentals with on-site service and maintenance when necessary. We also offer training and consulting for your team.
You can rent for a day, a week, a month or longer. Our flexible rates and financing options make it easy to find a solution that works for your budget.
Alternatives to Renting
Of course, renting isn't the best option for every business. If you prefer to buy equipment outright, we also offer both new and used Cat equipment sales.
Not sure which equipment solution is right for your fleet? We'd be happy to assess your needs and recommend something that makes sense for your business.
Contact MacAllister Rentals Today
To request a quote for Cat equipment rentals, get in touch with a MacAllister Rentals representative. Use the form on this page or visit one of our many locations in Michigan and Indiana for in-person assistance.