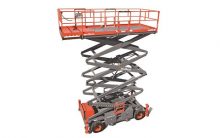 Working safely at high heights requires reliable lift equipment. Skyjack manufactures purpose-built aerial lifts for construction, utility work and other applications. Skyjack's products combine ease of use with superior reliability, making them a great rental option.
MacAllister Rentals is an authorized Skyjack dealer for Indiana and Michigan. Our rental inventory includes aerial lifts and other work-at-height solutions. We would be happy to help you choose the best product for an upcoming job.
For more details and pricing, call us at (877) 700-1945.
Our Skyjack Rental Fleet
All our Skyjack lift rentals feature low hours. Our technicians ensure that all equipment in our fleet receives regular preventative maintenance. As a result, you can be sure that any lift you rent from us will perform reliably.
Our rental inventory includes several Skyjack products:
Scissor Lifts: Skyjack scissor lifts feature a large platform that can accommodate several workers. We rent electric scissor lifts for light-duty and indoor use, as well as diesel units engineered for stability in rough terrain.
Telehandlers: Telehandlers like the Skyjack ZB2044 combine the features of a boom lift and a forklift. As a result, they are a versatile choice for agriculture and material handling applications.
Follow the links on this page to learn more about our selection of Skyjack rental lifts and related products. If we don't have the exact model you're looking for, a team member would be happy to recommend an alternative that will meet your project's needs.
Why Rent a Skyjack Lift?
All Skyjack lifts feature relay-based control systems that are easy to use and train new staff on. As a result, they are an excellent choice when renting for a short period.
When you rent a Skyjack lift from MacAllister Rentals, we'll make sure you have the training and accessories necessary to operate it safely in any condition. As a partner to clients in construction, warehousing and other industries, we know what it takes to get the job done.
Benefits of Renting
Renting makes sense for short-term or one-off projects requiring the ability to work at height. However, it can also be a way to expand your fleet for an extended period. Renting frees you from the commitment of a lease, while letting you stretch your budget further with newer and more advanced equipment.
MacAllister Rentals offers daily, weekly and monthly rates for any rental need. We can also arrange transportation to your job site, and provide on-site service and maintenance.
Getting Started
The first step in renting a Skyjack lift is to contact MacAllister Rentals and request a quote. Multiple locations throughout Indiana and Michigan offer convenient service for all clients. You can also use the form on this page to get in touch.
Alternatives to Renting
We don't just rent Skyjack equipment. We also offer new and used sales through our sister companies, MacAllister Machinery and MacAllister Used. If you'd like to learn more about your options, or have a team member run the numbers for you, contact us today or call us at (877) 700-1945.