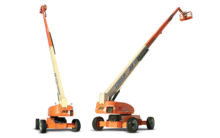 MacAllister Rentals is a leading source of powerful and efficient JLG lift equipment to meet your short- or long-term requirements. Our extensive selection of JLG aerial lift rentals includes scissor lifts, knuckle booms, telescopic booms, personnel lifts and towable lifts capable of helping your business boost performance and reduce operating costs. Whether you work in warehousing, general contracting, retail, production or a variety of other industries, our experienced team will assist in finding the lift rentals you require custom-configured to your applications.
JLG has been a trusted manufacturer of access equipment for nearly 50 years, delivering innovative machines with exceptional versatility and durability. They're a pioneer in developing eco-friendly solutions that are safe and productive.
For more details and pricing, call us at (877) 700-1945.
Our Inventory of JLG Aerial Lift Rentals
As a go-to source for lift equipment in Indiana, Michigan and the surrounding areas, MacAllister Rentals carries a broad range of JLG lifts for use on a temporary basis. Our late-model JLG lifts feature state-of-the-art technology to help operators of all experience levels work faster and smarter. All our aerial lift rental units are meticulously tested and maintained by skilled service technicians to ensure they're capable of peak performance.
Our selection of JLG rental equipment includes:
Not sure which lift is right for you? Check out our aerial lift guide for help.
New and Used JLG Lift Equipment for Sale
As a comprehensive source for aerial lift equipment, MacAllister also offers a variety of solutions for accessing the products you require. We carry a complete selection of new JLG aerial lifts for sale backed by industry-leading customer service and support. You'll also find an extensive inventory of well-maintained used JLG equipment for a cost-effective alternative to purchasing new. All our used models are carefully inspected to ensure they meet strict quality standards.
Learn more about everything we can do to help grow your business. Contact us or call us at (877) 700-1945 today about our JLG lift rentals and to speak with a knowledgeable member of our team.