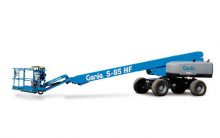 MacAllister Rentals is proud to be a comprehensive source for Genie aerial lift rentals for a broad range of businesses across Indiana and Michigan. Whether you need scissor lifts, knuckle booms and telescopic booms, or personnel lifts and towable lifts, we're the one-stop shop for your short- or long-term needs. Our lift rental solutions provide the temporary support you require to maximize productivity and eliminate downtime. As your local Genie dealer, we also offer a broad selection of top-quality new and used lift equipment for sale.
A leading manufacturer of material lift machines since 1966, Genie is one of the most respected names in the industry. Genie's broad product line ensures we have the models of equipment to meet your project requirements efficiently.
For more details and pricing, call us at (877) 700-1945.
Our Lineup of Genie Aerial Lift Rentals
We carry an extensive selection of Genie lift rentals, delivering rugged durability and the latest productivity technology. These powerful and versatile machines completely solve your challenges, whether you work in warehousing, retail, utilities and countless other industries. All our late-model lift rentals are available by the day, week, month or longer to increase your flexibility and lower long-term operating costs.
Categories of Genie equipment rentals include:
Need help deciding which type of lift is right for your work? Check out our aerial lift guide to learn more.
New and Used Genie Lift Equipment for Sale
MacAllister is a full-service Genie dealer providing new and used sales at our convenient locations throughout the region. We carry the full line of new Genie aerial lifts with a variety of options available to meet your particular requirements. Our extensive selection of used equipment manufactured by Genie includes a range of well-maintained models that have been tested for quality by our experienced service technicians. We also provide the work tool attachments you need to get the most out of your machines.
Get in Touch About Genie Rental Equipment
Whether you're looking for an economical way to supplement your fleet or you need a specific model for a short-term or one-time application, our Genie lift rentals make perfect sense.
Contact us or call us at (877) 700-1945 for more information and to request assistance from a knowledgeable member of our team. We'll be happy to answer all your questions and provide a free quote.