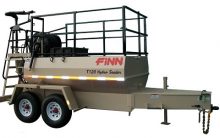 FiNN engineers its erosion control equipment to deliver innovation, productivity and efficiency in a range of applications. FiNN's products include the HydroSeeder® line, as well as straw blowers and bark/mulch blowers.
Demanding organizations use FiNN equipment for jobs of any size. If you're looking to expand your fleet, either temporarily or for the long term, MacAllister Rentals has many options available in Indiana and Michigan.
Explore FiNN equipment rentals using the links on this page. You can also contact us directly for assistance.
FiNN HydroSeeder Rentals
A FiNN HydroSeeder is the most efficient way to spread fertilizer and seed over a large area. Key features include a hydraulic paddle system that offers precise control over loading, mixing and discharge.
Our FiNN rental options include HydroSeeders in different sizes and configurations. Use them for agriculture, erosion control, landfill covering and other applications.
Visit our HydroSeeder Rental page for detailed specifications.
FiNN Straw Blower Rentals
Use a FiNN straw blower for shredding and discharge as part of the mulching process. FiNN machines excel at processing high volumes of straw. They offer one-handed operation for convenience, and a unique clutch design for improved precision.
We rent two FiNN straw blower models — the more compact B40 and the larger B70. Both offer capacity and range suitable for demanding agriculture, landscaping and pipeline work.
Learn more about potential applications on our Straw Blower Rental page.
FiNN Bark/Mulch Blower Rentals
FiNN bark and mulch blowers are multitasking machines that deliver productivity and reliability in any terrain. They are an excellent rental option for spreading mulch and topdressing. They are also useful for new lawn and erosion control blanket installation.
All FiNN bark/mulch rentals offer even spreading of various size materials and contain built-in dust control systems. Find more information on our Bark and Mulch Blower Rental page.
Why Rent FiNN Equipment?
Choosing FiNN equipment can deliver multiple benefits for busy organizations:
Exceptional versatility
Go-anywhere portability
Improved results
Lower labor and operating costs
FiNN equipment combines advanced technology, precision engineering and quality construction. Renting a FiNN machine is a great way to improve productivity and ultimately enhance your bottom line.
Benefits of Renting
FiNN equipment is ideal for short-term, one-off or seasonal jobs. With daily, weekly and monthly rates available, renting can be great for longer-term needs, too.
Renting lets you enjoy all the benefits of FiNN equipment without the commitment of a lease. You'll free up credit while still getting a world-class, low-hour machine.
Are you interested in purchasing a FiNN product outright? We offer new and used sales in addition to rentals.
Renting From MacAllister Rentals
MacAllister Rentals is an authorized FiNN dealer for Indiana and Michigan. We rent many of the company's best-known and most versatile models, and all units receive regular maintenance from our expert technicians. We can also provide training, emergency repairs and other services.
Let us put together a package of products that drives your productivity. Visit a location near you or contact us using the form on this page.