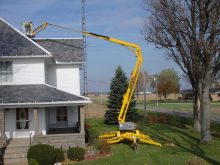 MacAllister Rentals is pleased to increase our rental equipment selection through our partnership with Haulotte North America. We offer Haulotte boom lifts in several sizes and various lifting heights ideal for many applications. Our experienced staff is available to help you choose the Haulette lift model that best meets your operation's needs.
Haulotte has been a worldwide leading manufacturer of high-quality lifts since its startup in 1881. These machines provide companies across Michigan and Indiana with the best aerial lift solutions.
For more details and pricing, call us at (877) 700-1945.
Haulotte Boom Lift Rental Applications
Towable boom lifts are ideal for indoor and outdoor applications because of their flexibility and mobility. These lifts fit onto your pickup truck or work van's hitch for easy hauling.
One of the main advantages of a Haulotte towable boom lift is its excellent reach and increased mobility. These lifts are lighter and simpler to operate, combining the flexibility of a small utility vehicle with a larger aerial lift. Many Haulotte lift models can exceed 50-foot height reaches.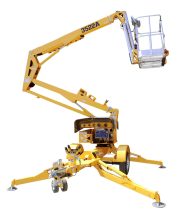 Workers prefer these models because they can access areas that most heavier-duty boom lifts cannot. These features make Haulotte towable boom lifts popular for many applications, including:
Construction projects
Contracting work
Municipality operations
Building maintenance
Lighting and signage
Advantages of Partnering With MacAllister Rentals for Haulotte Boom Lifts
Towable lifts allow you to handle many of the same jobs as other heavy-duty lifts without the high transportation costs. When choosing MacAllister Rentals for Haulotte lifts, you get one of the most versatile aerial lift devices at a reasonable price. We offer flexible rental packages to meet the needs of your operation, whether you need the lift for several days, a few weeks, a month or longer.
More benefits of renting with us include:
Cost savings: Renting equipment can help you save money by avoiding down payments and increased insurance costs.
The ability to try before you buy: Renting gives you access to some of the most modern lift technology, allowing you to test newer models of equipment before adding it to your fleet in a more permanent capacity.
Access to the right tool for the job: Renting the perfect tool for the task you're completing means you don't need to use a machine for a job it's not designed to do.
Spending flexibility: When you rent a boom lift rather than buying one, you'll have more resources available to improve production.
New and Used Haulotte Towable Boom Lifts
Besides offering a huge selection of rental boom lifts, the MacAllister inventory features an extensive line of new machinery and used heavy equipment. Browse our online inventory or connect with your local MacAllister rental dealer to find the best options for your business.
Rent a Haulotte Towable Boom Lift From MacAllister Rentals Today
Since 1999, MacAllister Rentals has built a strong reputation across Indiana and Michigan as one of the region's most reliable equipment dealers. Our partnership with Haulotte is another example of how we are improving our services to offer you some of the market's highest-performing machinery. Contact us online, call us at (877) 700-1945 or stop by one of our convenient locations today to learn more about a Haulotte towable boom lift's many benefits.