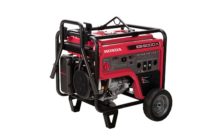 The construction industry requires reliable power. When it comes to portable generators, the Honda name stands for quality you can count on. That's especially important when you need a portable power solution.
As an authorized Honda dealer, MacAllister Rentals has a large inventory of well-maintained Honda generators for rent.
Let one of our representatives help you find the best model for your needs.
Why Rent a Honda Generator?
Honda generators lead the industry in delivering power in a compact package. The company's lineup of portable generators offers:
Quiet Operation: Low-noise Honda generators are suitable for use anywhere with strict noise regulations. Whisper-quiet operation reduces distractions on the job site, too, improving safety.
Easy Transport: Honda generators are light enough to move to and around a job site with ease. Larger models come equipped with a wheel kit and lift hook for added convenience.
Fuel Efficiency: Most importantly, Honda generators are economical to run, even over a long shift.
When you're renting a generator, ease of use is essential. Struggling to install and configure your rental will lead to lost productivity and cost overruns. Choosing Honda gives you a reliable unit suitable for any environment.
Our Generator Rental Fleet
MacAllister Rentals has low-hour Honda generators available for rent. Our technicians perform all recommended maintenance according to the manufacturer's schedule.
Our inventory includes units from the EU and EB series of products. EU generators are highly portable, fully enclosed models. They are ideal for recreational or backup use. The heavier duty EB series offers more power for more demanding applications.
Why Rent Honda Generators?
Renting a Honda generator gives you quality power equipment without hassles or long-term commitments and also:
Makes budgeting easier as it eliminates the potential for emergency expenses
Can save you money on transportation
Gives you access to more reliable, fuel-efficient equipment than you might be able to afford otherwise
Doesn't require a lease or loan that can tie up your credit
Of course, if you'd prefer to purchase a unit outright, we can help with that, too. Explore your options for new and used Honda equipment with one of our sales representatives.
Request a Quote Today
We can provide Honda generator rentals as well as portable lighting, pumps, tools and other equipment. As a partner to construction crews, landscapers and other businesses, we have an extensive inventory of rental products for all applications.
We would be happy to put together a turnkey power solution for your upcoming project. The first step is to speak with a MacAllister Rentals representative and request a quote.
To serve you better, our network of rental stores includes locations across Michigan and Indiana. Visit one of our locations to speak with a representative in person. You can also use the form on this page to submit a request to our head office.