MacAllister Rentals is a proud rental partner in Indiana and Michigan's lower peninsula for Maeda mini crawler cranes. These tools are ideal for limited-access projects where traditional cranes can't maneuver. When you rent from us, you get current technology at affordable prices to put your money to work growing your business.
Since 1962, the Maeda name has meant high-quality craft and innovative design. The company developed its mini crawler crane lineup to solve construction challenges like narrow egress and limited overhead clearance. Today, this equipment is used throughout the world for many applications.
You can trust Maeda for a versatile, compact and powerful crane to take material handling to new heights. Count on MacAllister Rentals for the right Maeda rental equipment.
For more details and pricing, call us at (877) 700-1945.
Our Inventory of Maeda Mini Crane Rentals
We have three Maeda workhorses to choose from, so you can match the equipment to your project needs. Rent them for a day, week, month or longer with our flexible rental options.
Our selection of Meada crane rentals includes:
MC285: The MC285 is popular with our customers due to its ultra-compact size — it's slim enough to fit through standard doorways. It also features generous lifting capacity and smooth operation with rubber tracks.
MC305: The midrange MC305 handles slightly heavier loads than the MC285. Remote control convenience and real-time data display make it easy to operate.
MC405: The MC405 has the largest load capacity in the lineup. This model also supports pick-and-carry material handling.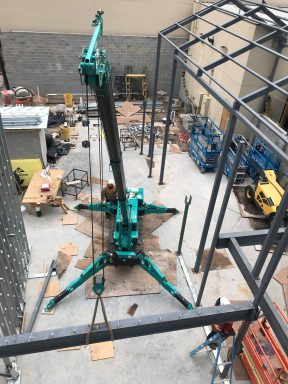 Each of our rentals delivers equipment benefits like:
Durability: Maeda mini crawler cranes boast rugged construction for demanding industries.
Multi-position outriggers: These models feature outriggers with adjustable positioning. You can clear obstacles while maintaining safety and stability.
Environmental Protection Agency (EPA) compliance: Our Maeda mini cranes meet or exceed current EPA emissions standards.
Maximum agility: This equipment features a minimum tail swing, 360º slewing and high performance on uneven terrain.
Built-in outrigger safety: Interlocking outrigger monitoring prevents machine operation without proper engagement.
Tipover protection: Maeda mini crawler cranes sport a real-time moment limiter. This device automatically turns off the crane if it exceeds the load capacity.
New and Used Maeda Equipment for Sale
Our team is pleased to deliver cost-effective ownership options at our Indiana and Michigan locations.
Browse our new equipment inventory to add a new tool to your fleet. We carry a large selection from the market's leading brands, including Caterpillar®, Genie, Manitou and more. Or, invest money back into your business by buying pre-owned models. We also offer hand tools and equipment attachments to help you maximize productivity and revenue.
Contact Us for Maeda Mini Crawler Cranes
Business owners in Michigan and Indiana have chosen us for decades. We offer our cost-effective solutions and exceptional customer service with every order. Whether your needs are short- or long-term, we have the Maeda mini crawler cranes to meet them.
Not sure which equipment is right for you? Connect with a MacAllister Rentals specialist online or by phone at (877) 700-1945 for unrivaled expertise and assistance.